Softail Frame Fabrication
by Ian Loveday
(Northants UK)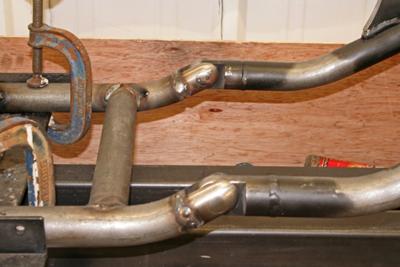 Swing Arm Joints
I just wanted to build my own bike and make as many of the parts as possible. So far I have made up the jig and frame in the pictures.


The frame is based on the plans that I got from this site.
The neck rake is 45 degrees because I like the look of long front forks. I will be building my own Springers for the front.
The rear swing arm joints I made up on a small lathe. They have needle roller bearings and stainless steel pins.
I machined the pins so that all that is visible when tightened them up is a 19mm circle. I think that they look good, and will make the joints for the front springers the same.
The top shock absorber mountings will also be the same.
The neck tube was machined from a solid billet and is very strong. There is a lot more to do yet but thought that some people may get ideas from what I have done so far.
I am using a Sportster 1200cc engine and gearbox.