1985 Virago XV1000 Build
by Jason Faram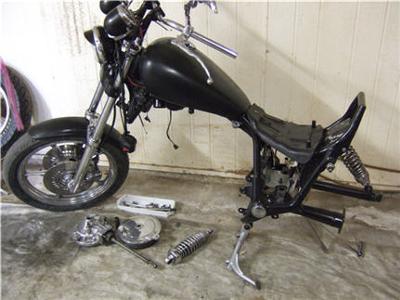 Virago Build
I bought the bike running and original, with the intention of pulling a bit of clutter off and giving her a quick clean up. That was a year and a half ago.


She's been stripped to a bare frame. I had the rear fender struts cut off and welded back on to form a single banana style seat. After watching all the videos from custom choppers guide and a couple of hundred hours of you tube with no previous experience, I replaced the steering bearings, rebuilt the forks, port and polished the heads, fitted new valve stem seals, and de-glazed the cylinders.
All the chrome on the bike (except the upper fork tubes) has been ground off, and the underlying alloy has been polished.
The rims also have been stripped and polished. The exhaust got rebuilt as well, and will get the wrap treatment.
Now comes re assembly and a fresh paint job.
I'm a fully trained tattooist and have been learning to airbrush for the last year, so it should come out wild.
Setting up my workshop to do this as more than a hobby, and my next build will be a custom built frame and girder fork monster to launch FARAM CUSTOMS. Thanks guys.