Garage Built Chopper!
by Ronald
(Holly Hill, Fl.)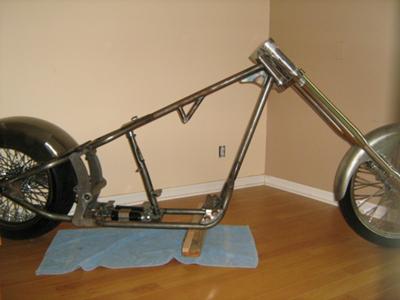 Santee Frame
Before I decided to build this garage built chopper, I thought about buying a Japanese bike but knew I wouldn't be happy with it. So I decided to build my own.


I looked at all the options and decided I would be better off just scratch building one. I started off with a used revtech engine off of craigslist. I bought a Santee frame on Ebay were I got most of my parts from.
It will have a 250 rear tire 6 speed Ultima tranny and a 3.35 inch drag style belt drive. It has a 5 inch stretched tank and 8 inch over inverted forks.
Pretty much all my parts were bought off the internet. I'm in the body work stage now. Hoping to get it going in another 6 months or so. We'll see how that goes?