Yamaha Virago XV700
by Robert
(Oklahoma)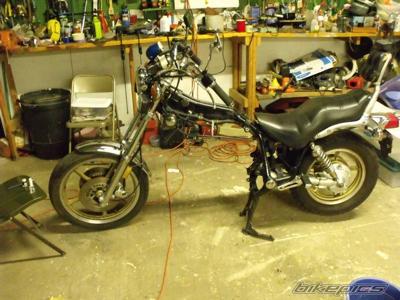 The nightmare begins.
New life to my old bike: I have a 1985 Yamaha Virago XV700, She was ridden daily for years racking up just over 135,000 miles on her. But then I suffered a stroke and she was garaged. I was not able to drain the gas and all the usual storage things. So now that I have started to get her back on the road, it has definitely been a learning project.


Tore down the engine (yes, I was scare I would never get her back together again) and now she runs good, but she looked bad. and was missing a side cover.
Using Duplicolor rattle cans, silver base, blue spakle, then several cans of clear and a lot of elbow grease she got a new look.
The problem was the missing side cover. I used the left side one as a template, drew it out on some wood, cut it out, flipped it over, took some sheet metal and pounded on it with an old softball (I don't have proper metal fab tools). The end result, I think it looks better than the original.
In the future, somewhere, don't know when, I would like to put a chopper kit on her. But, for now, I am just glad to get back to riding. Still need to save for tires and battery.