Mikes Savage 650
by Brian Medina
(Gardner, MA. U.S.A)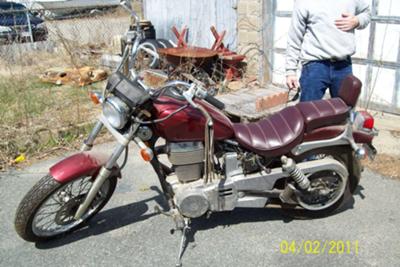 The Way We Got Her
A bro got this bike for nada, nothing, not one cent. He was told the bikes motor was blown or the piston was bent. He got it and it and it sat for a year. That was after it sat at this shop for almost two years.


The first picture is how he got it. We pulled the carb off got it to at least rumble like it wanted to start. I took the carb home cleaned it and the following week I went back and got the bike to run and backfire like hell. Mike wanted it to be a bobber with next to nothing on it. We talked about it for a few weeks got a plan together, and last month he rode it to my place.
In 3 days we stripped it down to almost nothing, painted everything we could flat black. I hacked an old Honda front fender and made it the rear fender. I took the stock air box out and made a new filter system for the bike with a car air cleaner and some pvc tubing. I did all the tank and fender painting all total we got the bike looking like it does and running for a little over 200 cash, not counting the cost to get it on the road legally. Let me know what you think.