Kraft Tech FXR
by Keith Hupp
(Chugiak Alaska)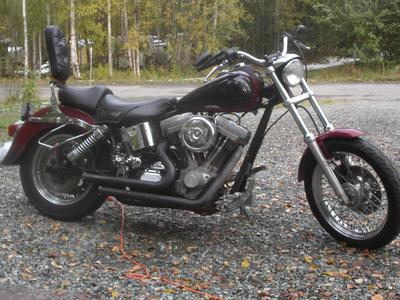 Kraft Tech FXR
Got a smoking deal on a 1997 Dyna basket case came with most parts less the frame. I then chose an FXR style Kraft Tech frame. Well let me tell ya what I did not know about Harley Davidson's could fill a book.


After I figured out the list of parts to make a Fxr from a Dyna, Namely an Fxr transmission, and Delcron swingarm mounts we let the fun begin.
I don't have a shop so I built this bike in the pantry off the kitchen roughly 8 foot by 10 foot. I spent about 2 years gathering parts, to the un-knowing (my wife) it might have looked like I was not making any progress but I knew I was close and after being berated one more time I said the heck with it I'll show her!
So as November 2011 began so did my build. My frame was built with a 34 degree rake and a 2" front leg stretch. the Dyna forks I used were off a Convertible model and are 2" longer than standard.
I have a pretty good photo record of my build but those pics are on my other computer and it's crashed right now. These are a few I took the other day.