Single Motorcycle Trailer Plans - 23 Pages, Easy To Follow!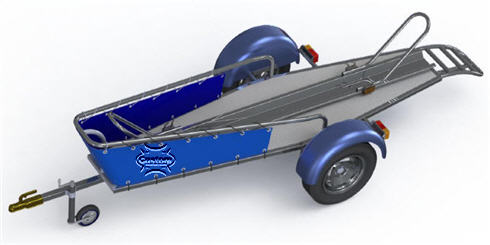 Our new 23 page set of single motorcycle trailer plans is for a specialized trailer which can accommodate most custom motorcycles and stock bikes.
The single rail motorcycle trailer is running on an AL-KO S 19 axle with rubber torsion elements and brake system.
The GVW (gross vehicle weight) being 1500 lbs. the trailer should not be fitted with brake system.
The manufactured parts of this one-of-a-kind single motorcycle trailer shown use welded rectangular pipes and plywood.
Trailer features:
GVW: 1500 lbs. 
Body size: 120"x34" 
Motorcycle carrying capacity: 1 
Fixed rear ramp for bike loading 
Tarpaulin front protection 
AL-KO S 19 axle with torsion rubber suspension
The price for this 23 pages set of single rail motorcycle plans is just $59.95 $9.95!

---
One of our engineers designed these plans. He has over 20 years of hands on experience creating and building all types of devices for big and small shops, motorcycle parts, car and truck frames and parts, all kinds of automotive parts, and much more.
We specifically designed these plans (like all our plans) to be simple to follow so that the home builder and the seasoned shop owner could save time and energy trying to figure out what to do. You will be very pleased with our plans. Promise :-)
Large Bikes:
Here is a question from a customer on our single rail motorcycle trailer...
Question: What keeps this contraption from making your bike "top heavy" when in a turn, and making the trailer tip over? A 700 pound bike on a trailer that's 34" wide, seems a little scary to me.
Answer: This is an extreme situation. The trailer track may be increased using rims with a larger offset (the actual rims have zero offset). If you want to use the trailer for a tall and heavy motorcycle we could deliver a modified chassis for a wider axle for a small fee.
More Chopper and Shop Plans: 
Double or Single Motorcycle Trailer Plans - Also Multi-Purpose!
Bobber Frame Blue Prints (Hardtail and Softail)
Motorcycle Frame Jig Blue Prints
All Frame Plans, Jig Plans, Fork Plans, and Forward Control Plans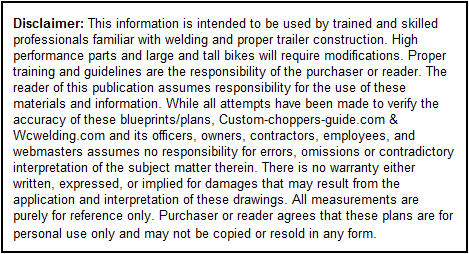 ---

---
---
---