Triumph Bobber Suggestions
A Triumph bobber can be a real joy to own and ride. If you already own a stock Triumph, you can turn it into a bobber or you can build a bobber using a Triumph drive train. 
Either way, you'll end up with a gorgeous ride that doesn't have a lot of "stuff" on it that isn't necessary.
If you want to build a Triumph bobber chopper, you can choose to build a chopper style or simply stick with a stock frame. The choice is entirely up to you. However, with the recent resurgence of popularity of bobbers, many bikers are turning to the chopped bobber look instead of the post-World War II look of the stock bobber.
The first step in creating a Triumph bobber or any other make, is to get rid of all the unneeded items on the bike. Those saddle bags have to go; those engine guards aren't a necessity either. If you have a sissy bar, remove it as well. Also, bobbers are either single saddle or have a very minimal pillion pad on the rear, so you'll want to change the seat if you have something less purist. 
A Triumph bobber probably looks best when the frame is lowered a bit and the forks shortened if stock or when a bit of rake and extension is added for the chopper look. The idea is to give the finished bobber a look that is a little long, low and lean. The old school bobber tradition is to keep it simple and use only essentials.
Of course, what you install on your bobber Triumph is controlled, at least in part, by the legalities of the State in which you live. It should also be controlled by keeping safety in mind. If your State requires a rear view mirror, you must install one. If it is optional in your State, you can leave that non-essential off; however, many riders feel that a mirror is a key factor in safety. So, look at how you feel about certain accessories and don't fail to include safety features that matter to you. After all, if you are accustomed to using a mirror in traffic, suddenly riding without one could result in a very flat bobber and you could be seriously injured -- or worse. Head lamps are required everywhere, and turn signals are required in most States. You must check with your State's Department of Motor Vehicles to learn exactly how much you can legally remove from your motorcycle while keeping it legal. 
Old school Triumph bobbers look great with red-wall tires on many designs. Others look best with solid black rubber. Wheels are traditionally wire spoke. Tire size should be determined by the overall bobber look you are trying to achieve. A chopper looks great with a big fat rear tire and skinny front rubber while a stock frame looks rather strange with that same set of rubber on the ground. 
Fenders are another option and Triumph bobbers and old school bobbers have no front fender at all. The rear fender, or if you choose to keep a front fender too, should be bobbed off to a very minimalist size. This is done to not only lessen weight but also to add to the long, lean look.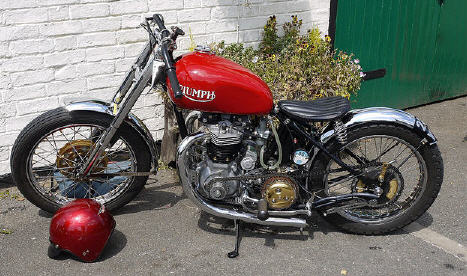 Related Articles:
---