Wicked Custom Triumph Bonneville!
Our guy, Luke, sent pictures of a custom Triumph Bonneville. It's Wicked. 
Luke: "It's a custom Bonneville with the old school touch. To the trained eye you will know how much custom work has been done here. Take a look at the rear wheel. Not its size in relation to the front and the Old school tires.
Note how far back the rear wheel is and chain length. Dave has had many sleepless nights and has put so much hard thought and effort into this bike I can personally vouch for. It would now stand as the best custom Late Model Bonny in Australia in my opinion." 

Dave Velcek (from VICTORIA Australia) on his custom Triumph Bonneville chopper: 
The custom Triumph Bonneville chopper build details:
Custom Truimph Bonneville Build PART 1 - What I did (or had done) before sending it up to DEUS:
Building and installing an 18-inch rear wheel, and a 19-inch front wheel, both MORAD VALANCED rims, with OEM hubs, powder coated GLOSS BLACK, and with 6/8 ga butted stainless steels spokes - wheels build by Phil Degrunchy at LIGHTFOOT ENGINEERING
Installing vintage Firestones front and rear - 450-18 and 400-19 (tyres purchased from Ben McKinnon at

Antique Tyres

)
removing front fender 
powder coating centre mounts of disc rotors 
powder coating L & R engine covers gloss 
extending the rear swing arm by 2.5"
installing new rear sprocket anodised in black 
installing new rear chain 
installing your small sprocket cover (purchased from B

ritish Customs

in the USA)
Madass mufflers (Melbourne), and OEM headers, HPC coated with polished tips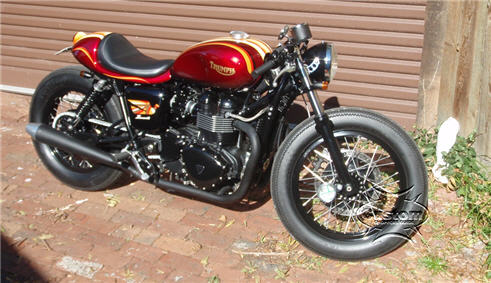 Custom Triumph Bonneville Build PART 2 - What DEUS did 
convert OEM top tree to smooth neat top tree, painted gloss black
make alloy "speedo bracket" for OEM Bonnie speedo and install in the centre under the top yoke
side mount headlight
custom headlight brackets, chromed
integrated indicator lights in top of headlight
41mm Tingate clip-on bars, handlebars converted from 1" to 7/8"
Triumph Trophy 955 handle bar controls with custom cables
clip-on mirror
relocated ignition switch
British ribbed style grips
Installed Ikon Progressive Front suspension, lowered by 2 inches
Installed Ikon rear dampers (tri-rate), lowered 2 inches
Braided brake lines
W650 petrol tank, shaved, smoothed, knee dents added, fuel injection unit inside the tank, and install Monza race cap (purchased through New Bonneville in the USA)
rear frame unit shortened by 4 inches and modified in shape
custom fibreglass seat unit moulded to suit frame
alloy matt black turn signals
horn hidden and rectifier/regulator shifted from bottom yoke to frame
hidden wiring throughout
fuel injection bodies (ie faux "carbies") painted 2 pack gloss black
Norman Hyde rear-sets installed
Full custom paint-job by Dutchy
In regards to this custom Triumph Bonneville chopper build, a special thanks to the following guys: Shane McDonald, Josh Veldhuis, Warren Babington (Wazza), Luke Hudson, Jeremy Dash (The American Nightmare), and the crew at DEUS - Shawn Zammit, Brad Black, and Jeremy Tagand.
Cheers for listening, Dave.