Triumph 750 Bonneville Chopper!
by AJ
(Naples, FL)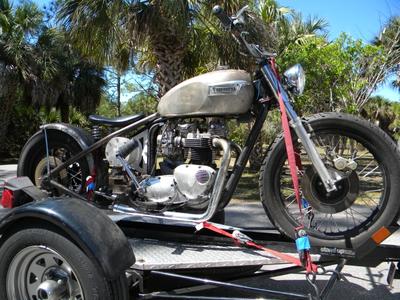 750 Bonneville
I bought a stock 750 Bonneville a couple of years ago as a project bike. I wanted to build a raw looking chopper for bar hopping around town. Actually I promised my wife it was for her.


Anyway, I cut off the ass end and made it a rigid. The frame is an oil in frame style but I built a fake oil tank to hide that fat tube going down the middle and all the electric stuff is in there. I also built and shaped a rear fender for it and modified a few other things around the bike.
The hubs are the original original Triumph but laced on to Harley rims.
It will not be painted with color. Just a clear coat to keep it from rusting. Right now it is almost done. I'm trying to get everything running right before I do a final tear-down to finish all the welds.
Take a look at the pics and tell me what you think.