The Affordable Yamaha XS 650 Chopper!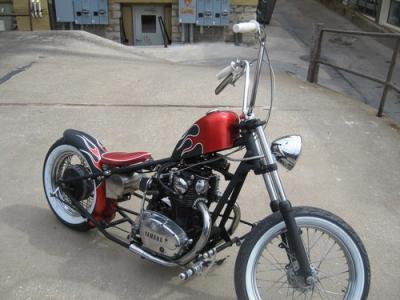 A Yamaha XS 650 Chopper is considered to be one of the best ways to go if you are looking for a cheap chopper build. You get power, fast acceleration, and a custom chopper that is easy to ride and handle well. 
In fact, the XS650 chopper is very popular with lady riders because of the lighter weight than the heavy V-Twins.
A major advantage of building a Yamaha XS650 chopper involves price. I'm sure you've seen radical V-Twin powered custom choppers that carry huge price tags. Even building one yourself is a huge investment. For most chopper enthusiast, however, the budget does have limits and we want the look, the pizzazz of a custom chopper but without the $20,000 and up price tag. 
In fact, the choppers we see on those custom chopper television shows are beautiful, but if you want to purchase one of those West Coast Choppers or Orange County Choppers custom   builds, you can easily expect to invest $50,000 or more. I don't know about you, but that price sounds more like the down payment on a very nice home to me, not a motorcycle!

There was a time in the custom chopper world that non-American manufactured motorcycles like the Yamaha xs 650 were not in vogue. In fact, there were many disparaging biker patches, stickers, and remarks which usually began with "Better my sister" and ended with a remark about foreign motorcycles. Thosedays are over. Unless you want to join biker club with colors, prospects, and a radical lifestyle, most any make and model of motorcycle, when turned into a custom chopper, is considered impressive and is accepted by other bikers who ride the V-Twins.
Is A Yamaha XS 650 A Cheap Bike?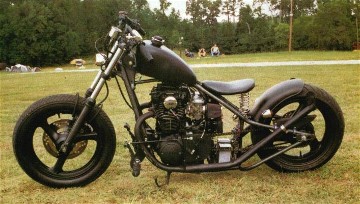 So, if "cheap" is a word in your vocabulary and "budget" is a real part of your life, you can fit in a very nice Yamaha xs 650 chopper without breaking the bank. You can use your reativity and ideas just as easily and effectively by customizing a Yamaha as you can a Harley or antique Indian. The chopper can be just as much a reflection of your personality, attitude, and style as can the Harley Davidsons.

The Yamaha XS650 is a twin cylinder engine first released in America in 1970. The design is not unlike the British engines but has a reputation of reliability that exceeds that of the British engines.
You may be able to locate a very nicely built xs650 chopper, maybe like the xs 650 bobber above (top left), ready for the road for a nice price if you buy from an individual. They also show up at swap meets. I've seen these sell in the $5,000 range with the look of a $20,000 chopper.
Or, you can purchase a mechanically sound stock Yamaha xs 650 and chop it yourself using modern parts. You can locate older XS650s for under $1,000 frequently -- and in good running condition. You can find later models of the XS650 for slightly more. The point is, these are affordable, very affordable   compared to the V-Twins available.
If you plan to use a previously owned engine, you may want to give it a top-end or full rebuilt. This lets you start with a like-new engine. However, if you know the engine is mechanically sound, you can avoid this time and expense.
If you buy a stock XS650 to turn into a custom chopper, you'll need to decide how radical you want to go. Cruise the net and you'll see many fine examples of these Yamaha motorcycles which have been chopped to get some ideas on how far you want to go.
First Things First!
Your first decision will be how much rake and front-end extension you want on your Yamaha xs 650 chopper.

Then you can begin the search for a sound chopper frame which meets your needs. You may well find just what you want in the used market, on eBay, in other online classifieds, or at a nearby swap meet. Or, you can buy a new after-market chopper frame that will mount your XS650 engine easily enough. Depending on the frame you choose, you might have to do a little mounting hardware adjustment or fabricate mounting brackets. You'll need to determine if a rigid (hard tail) or swing-arm (soft tail) frame is right for you, but both are readily available.
You'll want to choose extended front forks in the over-stock length to give you that long, low, lean look you want for your custom chopper. These are available new from many after-market suppliers. Or, again, you can locate them as previously-owned or perhaps even find them with from the same source as your frame at an affordable price.
Once, you have the engine, frame, and front end, it is simply a matter of choosing fenders, exhaust system, fuel tank, saddle, handle bars, wheels and tires, and safety / optional accessories and putting the entire Yamaha xs 650 chopper together. Sure, it takes an investment in time. But if you have more time to invest than money to invest, this is clearly the way to build a fantastic looking custom chopper that you'll be proud to ride. 
Related Articles: