Dom Tubing and Motorcycle Frame Tubing: A Basic Guide.
DOM Tubing = Drawn Over Mandrel. Here's what the in's and out's are when it comes to finding motorcycle frame tubing and using DOM for your frame build...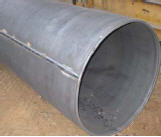 DOM Basics: DOM or Drawn over Mandrel Tubing and Seam welded tubing are two of the most common forms of steel tubing available. Each has it's advantages and disadvantages.
Seam welded tubing (to the left) is the most cost effective and can be used for various applications where high stress is not a concern. Light duty stationary objects such as tables, chairs, fences are the ideal application for this type of tube.
Automotive or Motorcycle as well as industrial applications should always use DOM structural steel tubing. These applications usually see a lot of unusual stresses at odd angles and are used in applications where high stress can be exerted due to G forces of the object moving constantly at various speeds.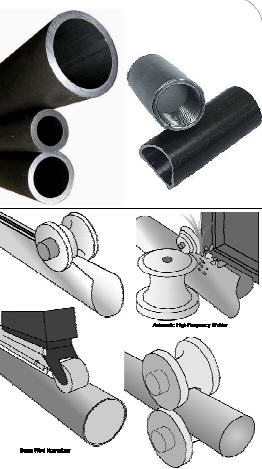 Seam welded tube uses a flat sheet which is bent into a circular shape and welded using the process shown on the right. This welding and bending introduces some stress risers at the weld location. When stress is applied then there is possibility of deformation at this weld location. Perfectly rounded DOM tubing on the other hand performs solidly with a load is applied. For our motorcycle application, it is definitely recommended to use steel DOM tubing instead of seam welded tubing.
Motorcycle Frame Tubing and Building A Motorcycle:
Some builders agree that DOM tubing is harder to work with. But DOM steel tubing is much stronger since there is no weld. The tube is drawn out over a mandrel and sometimes even drawn multiple times in order to achieve the proper outer diameter and inner diameter.
The standard tubing usually has a weld seam on the inside of the tube which is visible. This results in a stress riser and is not as strong as a clean smooth finish like the DOM tubing. Since the DOM tubes have a lot of processing required, they are much stronger and more uniform which make them the better choice for structural applications such as motorcycle frames. Because of this extra process during manufacturing, they are usually more expensive as well. I definitely recommend DOM tubes over standard tubes.
Why We Designed Our Bobber Frame Plans Using DOM Tubing and Can You Use Other Types Of Tubing?
We had our bobber frame blue prints designed using 1.5" tubes with 1/8" thick walls. Many builders use 1.25" and sometimes even 1". But 1.5" DOM tubing is a pretty hefty tube and the frame is a little over designed structurally, for a reason. Also we used 1/2" thick steel plates for the rear axle plates. This should be more than sufficient.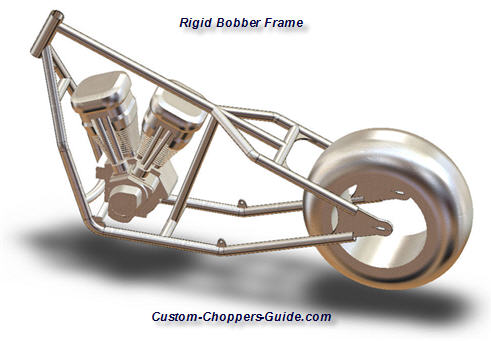 We can't say for sure whether 1.25" or even 1" tube is fine unless we run some detailed FEA analysis with some load. Builders are free to use whatever material the wish, but it is important that we recommend the stronger design (dom tubing) rather than under design. It's not worth the risk.
All of the frames that we are working on use 1.5" outer diameter tube with 1/8" wall thickness (using DOM tubing). We did some Finite Elements Analysis (FEA analysis) and put together a report showing the differences between the tube diameters and their performances. We can put it up if enough people request it. The FEA analysis that I conducted assumes a uniform material with no welds, which equates to DOM steel tubing.
Related Articles:
Tubing Size and Square Tubing Frames.
Motorcycle Frame Jig Blue Prints
Bike Building Questions and Answers
Motorcycle Frame Tubing: More on Dom and ERW Tubing!
See Question Below About What Tubing To Use From our Bike Building Questions and Answers Page: