What's So Special About Springer Forks?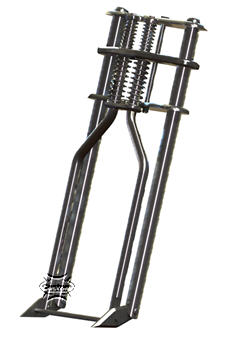 You've heard about Springer forks since the first time you ever saw or heard about motorcycles. Most people just think of Springer front ends as a brand name of forks.
That is not, however, the case. The Springer is a design. The design may be found under many different branding such as Wyatt Gatling, Road Max, Mid-USA, and tons of others. Or you can build your own springer front end.
There are basically two types of motorcycles forks: Springer and hydraulic forks. It's not a case of which came first, the chicken or the egg. Springer fork designs were around longer before the hydraulic fork. The concept of the hydraulic fork was first present on the Harley-Davidson Hydra Glide in 1949. Well, since Harley has been around since 1903, that's a lot of years that Springer forks were the only game in town.
The difference between the Springer and hydraulic forks is just what the name says: springs. Springer forks have two springs to soften the ride, allowing the bumps of the road to be absorbed somewhat before reaching the rider's hands. The hydraulic forks, filled with pressurized fluid, perform the same function, but with a much different feel on the road. The Springer ride is bouncier and has a more flexible feeling on the road. Some riders strongly prefer the feel, while others say it is too spongy and prefer hydraulics. It's really a matter of personal preference when it comes to the way the different fork styles perform on the road.
Springers have long been popular for use on custom choppers, in part because they look so great. Those big chrome springs draw attention to the top of the forks, bringing the eye up to the handle bars, mirrors and rider. They are also quite popular because they work so well in extended fork configurations on racked frames.
Springer forks can be found from stock to the ever popular 2-inch over stock length to the drastic 22-inch over length. However, anything over 18-inches over stock is pretty scary to ride and the turn radium is simply ridiculous. A lowered frame with 8 over Springer-forks and zero degrees of rack is a low seated, high handle bar custom styles that is often seen.
So, is the Springer front end for you? That's another one of those questions only you can answer. If you like a stock performance ride, you'll probably prefer the feel of the hydraulic, but if you like that soft, Captain American feel and radical look, then Springer front ends may be the best choice for you.
Just remember, the longer over stock you choose those Springer front ends, the more turn radius your custom chopper requires. It can take a parking lot to turn around! Sometimes, things can just go a bit too far except for show purposes - in which case the more radical, the better!
Related Articles:
What Are Your Thoughts...
What Are Your Questions, Comments, Or Suggestions On Our Springer Forks?
What Other Visitors Have Said
Click below to see contributions from other visitors to this page...

Alternative Spring Rod Bushing!

It all began when I was intrigued with the springer front end and saw how most builders were handling the spring rod bushing in the spring perch. To …
Figuring Out Fork Length For A Custom Long Bike

I'm planning a pseudo-long bike build. I want to have all the details worked out before I start getting dirty. I'm going to run a 19inch front wheel and …
How to figure out what length springer needed?

I have hydraulic forks now and am looking into putting a springer on. I'm trying to find out the length I need, either under or over stock length to get …
Specialty Springs and Hydraulic Housing

Hydraulic shock absorbers on the front of the motorcycle are very nice but I'm fixing the darn things about once a year with a hefty price tag. Are …
Springer Fork Geometry

As the axle plates swivel up and down do they create changes in the geometry that can cause problems? Fig 1 shows the first design, but the trail was …
Further Trail Modification Question

under what conditions might you have to modify the axle plates to maintaining proper trail? (If that is required, what are the critical points to use for …
DOM tubing and pumping hydraulic fluid

Just looking the the Springer fork plans once again. What do your designers say to using DOM tubing, and maybe 1.25" tubing in place of the 1.5" tubing? …
Customized For A Raked Frame?

Can your springer plans be customized for a raked frame? If so, could you tell me what would need to be done? Thank you.
Can you tell me if i have these mounted right?

I got these springer forks from a buddy of mine. Can you tell me if I have them mounted right or not and how to check my rake and trail any help would …
Rake Trail and The Happy Place! Not rated yet
This is also what I've learned over the years of Building Customs, Street Bikes, Road Racers, Drag Bikes, Etc.... When it comes to Rake and Trail! …
Captain America Hydraulic Forks Not rated yet
The Captain America chopper actually has hydraulic forks, not springer...
© Custom Choppers Guide All Rights Reserved.