Motorcycle Lift Table Plans!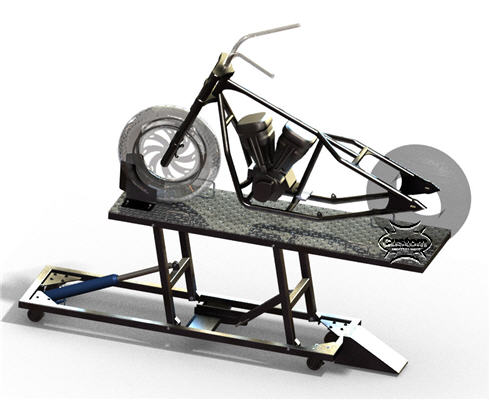 New One-Of-A-Kind - Motorcycle Lift Table Plans! Now you can build your own handy motorcycle lift for motorcycle maintenance and custom motorcycle work.
We know you are going to enjoy these motorcycle lift plans. And you are going to love the end result as well...a hydraulic motorcycle lift that will help you for the rest of your life!
The plans are for a hydraulic motorcycle lift. The operator will pump the lever in order to raise the platform. It's pretty simple and straight forward.
Motorcycle Table Plans Features:
The motorcycle table plans come in 3 different downloadable versions:
4 pages 36" x 72" (highly recommended).

Or a 'puzzle piece version which is 8.5 x 11, 144 pages, and printable from your computer.

They are designed using the most sophisticated software available. Our senior design engineer put his sweat and tears into this painstaking design and all it's elements, taking into consideration the demands of the home mechanic AND the busy professional.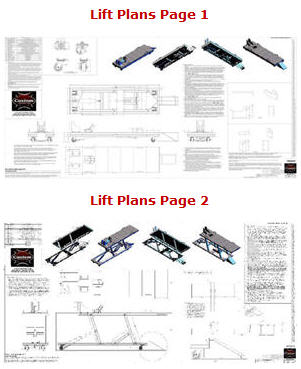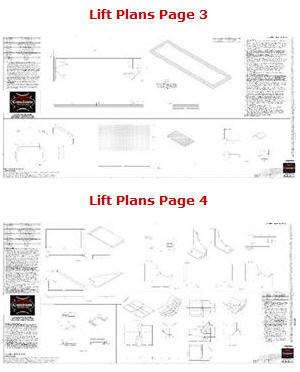 Max lift height of 36". Minimum height of platform at lowest level is 9".

The Motorcycle Lift Table is 24" wide by 84" long.

Weight limit on the lift is 1100 lbs*!

Hydraulic jack available from Harbor Freight and is relatively cheap.

Caster wheels have locks to keep from moving.

Spring pin design allows easy locking of lift when working on bike.

Stoppers keep the lift from going beyond height capacity.

Choke is adjustable for various size wheels.

Handles on the sides for rolling and also for tying down the bike.

Steel tube frame design.

1/2" plate gussets used.

1/2" shear pins.

Variable height adjustment safety lock.

Robust base and sturdy ramp design.

Stationary ramp.

Steel tread plate top.



The final result will be your very own manual lift table that is very simple to operate. And you'll find that it will be quite simple to build as well.
These motorcycle table lift blue prints have all the measurements and angles you need to make it simple for you to build. As with all of our plans, the best feature of our plans is that we provide you with different angle views which makes them much easier to follow, and therefore build. The price for any of the motorcycle lift table plans versions below are just $99 $9.95. Get one, two, or all three...
4 pages 36" x 72" (highly recommended).
Puzzle Piece Version: 144 Pages, 8.5" x 11" (printable from your computer)
Book Version: 49 Pages, 8.5" x 11" (printable from your computer)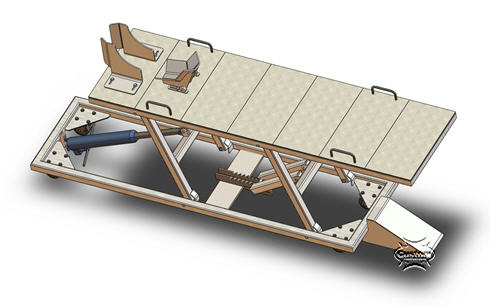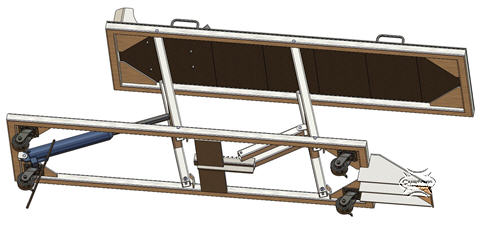 Here Are The Fine Details and Features That Set This Hydraulic Motorcycle Lift From All The Others!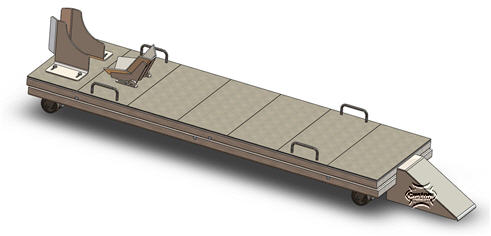 ---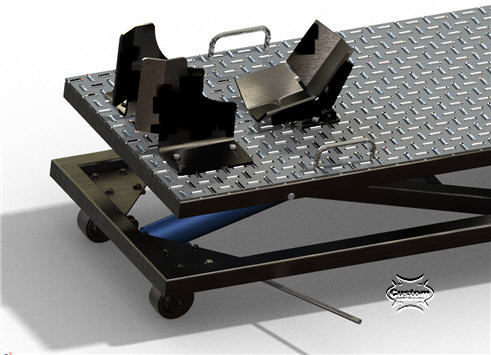 ---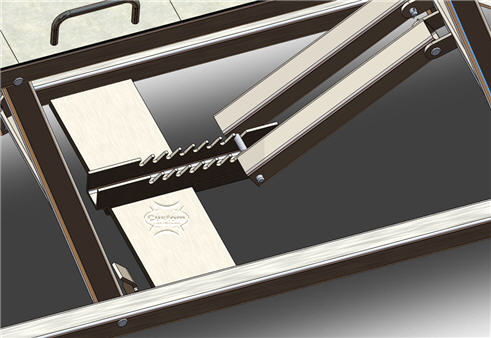 ---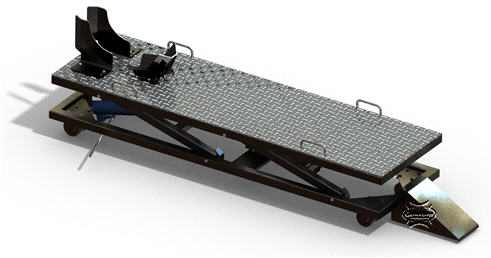 *Weight Limit:

We ran FEA on the weakest link which is the safety bar that should hold the platform in the event of a hydraulic cylinder failure. It held 1100 lbs (500 kg) with minimal deformation. Although this lift can hold a lot more weight, we would rather have a safety factor instead of pushing it to it's limits. The limit on the lift is 1100 lbs.
These plans come in three different downloable versions for your convenience: 4 pages 36" x 72" (highly recommended):
Puzzle Piece Version: 144 Pages (printable from your computer):

Book Version: 49 Pages (printable from your computer):

Large Version: 4 pages, 36" x 72" (each).
...And the detail, measurements, and materials list is like no other set of blue prints. You get angles and views that nobody in the market has, making it easier to understand and build.
We are confident that we created the best motorcycle lift plans on the market.
---
Show Us Your Lift!
Are you building or have you finished your lift? Please post a picture of it and share your story on the build. It doesn't matter if you've just started or finished it a year ago :-)
What Other Visitors Have Said
Click below to see contributions from other visitors to this page...

Light Lift For 150cc Motorcycle!

I like your plans for the cycle lift , plain and simple! I am making good progress fabricating my lift while waiting for my ram from Harbor Freight …
A Cheaper and Stronger Lift!

I completed the lift with one modification. I made the front stop removable which makes it more versatile. The only thing I would change is how the …

More Chopper and Shop Plans:
Rigid Sportster Frame Plans

250 Rigid Sportster Plans

Softail Sportster Plans
Bobber Frame Blue Prints (Hardtail and Softail)
Motorcycle Frame Jig Blue Prints

Motorcycle Lift Plans
All Frame Plans, Jig Plans, Fork Plans, and Forward Control Plans
---
Copyright
Custom Choppers Guide
All Rights Reserved.