Lift Table Questions and Answers!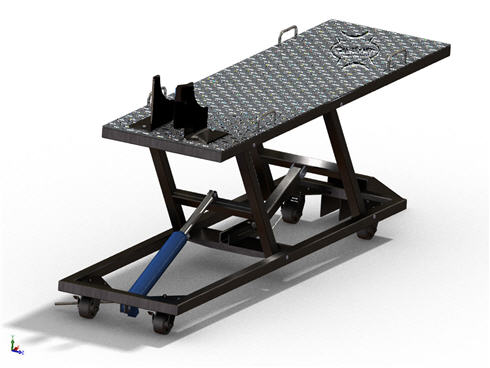 These lift table questions we get most often are below. I believe they will help you as you begin your build. If you want to get the lift plans you can do so here. Thank you!
Question: I bought your lift table plans. Maybe I missed something but what gauge is the 2" square stock for the main frame. 1/8, 3/16, or 1/4 inch.
Answer: The square tubes should be 1/8" gauge.  This should be sufficient for the structure.

Lift Plan Tubing Size?
If you would like to make the frame heavier than it already is then there is no issue with going with a thicker gauge.  Feel free to let me know with any additional questions or concerns.
Lift Plans Wall Thickness?

Question: I am wondering if .100 wall is ok to use for a smaller bike. I have a softtail Harley that weights about 650 lbs (there is scrap metal I can use for this build).

Answer: For a smaller bike I think it should be ok.  Please make sure that the scrap metal you obtain is in good shape.  The tubes need to be unbent or have any holes or cuts in them.  The last thing you want is the frame to buckle under the load.  There is a factor of safety designed into the frame and I do not anticipate any issues with using a .1" wall thickness, but it's better to be safe than sorry.  I would lift at low heights and make sure all looks good prior to going all out and doing a full height lift.  Make sure there is no bending or twisting that is occurring.  Also make sure that you use good sheet metal that is adequately thick to help reinforce the frame on the top.

Question: I was wondering about the base assembly, it says to use 2x2 tubing but has no wall thickness, I was planning on using 3/16 wall will that be about right? Also need to know where to get the pins 2", 3", and 5".

Answer: The wall thickness of 3/16 is fine.  You can even go down to 1/8 if you want to reduce cost and weight.  Also the pins are available at McMaster Carr and I think Reid and Grainger may also have them as well.  Feel free to let me know with any other questions.
Question: I have bought the plans for the bike lift and I am wondering what size 2x2 tube i should use what wall thickness is needed please and what thickness is the checker plate on the top in thickness also please thanks for your time.

Answer: Thanks for purchasing the lift plan from us.  We recommend using 0.12" wall thickness or greater.  This will provide sufficient stiffness and strength for even the heaviest bikes with large engines.  If you decide to go with textured aluminum, then you can use something close to .1" thick.  The texture will add additional strength and stiffness.  
You do have a frame underneath the aluminum plate that will provide stiffness for holding the bike.  Make sure that your seams are on top of the structure so that the load can transfer properly.  
A seam floating in the air will definitely deflect.  
The larger the top plate pieces are, the better.  If you are able to join 2 panels and make them one piece, that will be much better but the design was made for ease of obtaining material.  If you decide to use steel instead for the top plate, then you can get away with using something a little thinner than 0.1 in order to reduce weight.  Let us know with any additional questions.  
Lift Plans Hydraulic Jack?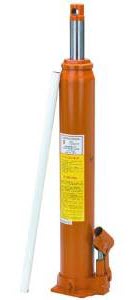 Question: What kind of hydraulic jack is on the plans? Can you connect to power or air for auto lift? Trying to figure out how much this is going to cost me to build, and which one to get, as you say "relatively cheap"... and that can mean different things to different people.

Answer: The dimensions and size were approximately the same as the one we found at Harbor Freight, and it's a Central Hydraulics.  Please keep in mind that we do not endorse any products or companies, but that is one that is relatively cost effective compared to other cylinders with the same size and capacity of lift.  
Question: Hello on your motorcycle lift plans do you give the size of the ram and also can you do it air over hydraulic?

Answer: The lift plans actually call out a specific part that can be purchased from Central Hydraulics. It is a 8 Ton Long Ram Hydraulic Jack. The lift was designed using this specific part. You can replace this as you feel fit but keep in mind that you want to use something that has an equivalent stroke length as well as lift capacity.  This lift is actually much larger and heavier duty than needed, but the lift has a factor of safety as well as some additional over design to make sure it is robust. Feel free to let me know with any other questions or concerns.

Question: Where are the springs used in the springer front end sourced from? Also what about shock dampening?

Answer: Custom Choppers Guide does not endorse any 3rd party companies nor warranties their products and services. Now that that disclaimer out of the way, we recommend looking through several different places on line that have springs and shocks. 
JP Cycles and motorcycle superstore are two good places to start.  The dampening is dependent on how stiff or soft you want your front end.  The springs available have a spring force value. 
The stronger the spring, the stiffer your bike will feel.  Also you can control this to some degree with how much you compress the spring when assembled in the springer fork.  You can adjust the design slightly to suit your needs.