Girder Forks Plans!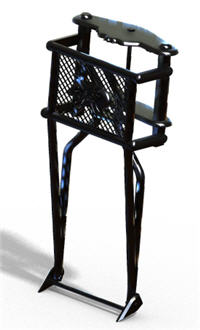 Our new girder forks plans are special. We had our engineer use his creative flare and build a structurally sound and well performing set of girder forks. 
In addition he introduced a unique grill and logo option for builders to take advantage of... 
Think of the grill and logo area as your canvas to introduce your own logo or image that represents your ride. Or, read our Girder Forks Plans Questions and Answers section below for more ideas.
It takes a senior engineer with a passion for motorcycles and dedication to create a final design of this caliber, and the final design is Awesome to say the least.
Girder Forks Plans Features:
Tube Diameter is 1.0" DOM Standard Carbon Steel
1.5" Side Steel Rod Diameters
External Spring Length = 11.5 - 12" pin to pin length.
Grill / Mesh available from various Mesh suppliers
Distance Between Axle Plates = 10.0" (200 Series)
Material - Standard Mill Carbon Steel
Rake = 30 Degrees (Stock Rake)
Wheel Diameters = 26" (Both)
The price for this exceptional set of girder forks plans is just
$49.95
$29.95, for a limited time.
What Will You Get?
The girder forks plans are 36 x 72 inches. So you'll get a set of plans printed on 36 x 72 inch paper.
---

Girder Fork Plans Questions and Answers:
What are the options or option ideas for the grill or logo area on the forks?
Custom logos are really dependent upon the builder. Some builders may go with just a stock logo of some brand that they like and others may make their own custom "family crest" or something special to give the bike a unique touch. It does not even have to have a logo.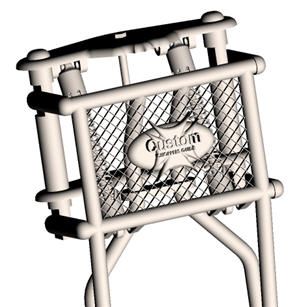 We were also anticipating customization such as some sort of LED lighting or glow from behind the grill. That would give the girder front end a really neat look. The other idea for these girder forks plans was to use the logo itself to be part of the light. (Think Batman spot light but instead of the batman logo, you have your own unique shape - star or whatever).
What frame did you use to show the girder forks plans on a chopper chassis?
We used the hard tail Sportster frame in the plans but they can be used an on just about any frame with modifications.
Where do you recommend putting the headlight?
You definitely want the light mounted to something stationary, not the moving part of the girder fork or your light is going to be bouncing up and down as you drive. There are several options to doing this.  The builder can mount on the top plate just above the top of the grill frame.  That would be a pretty safe location. If the builder wants to get a little crazy, they can even mount it behind the grill (maybe incorporate into part of logo). This would definitely require a grill that has a large percentage open area so that the light does not get blocked.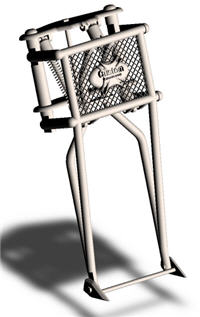 You can even cut out a circular hole if they feel like it but then again, this would require the light be mounted to the front part of the girder which oscillates up and down. (By the way, some bikes have the lights attached to the moving part of the fork, and on the freeway the light looks like it's flickering since it shakes so much).
What was the inspiration behind the grill and logo on the girder forks plans?
Our engineer is a high end car enthusiast as well as a custom motorcycle designer. One of the unique features of high end cars are their grills that they put in front of the radiator. Here's what he has to say: "I wanted to try to bring some of that design with the grills into a front end of a bike. I have never seen a fork like this one and I personally think it looks unique and brings a bit of the high end automotive flair to custom choppers. The only place I've seen grills are on the front head light and it is pretty small compared to what we will get here".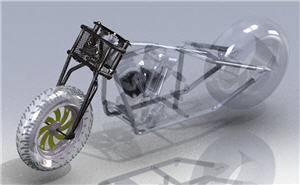 ---
More Chopper and Shop Plans:
Bobber Frame Blue Prints (Hardtail and Softail)
Motorcycle Frame Jig Blue Prints
All Frame Plans, Jig Plans, Springer Plans, and Forward Control Plans
---

---
Disclaimer: All measurements are for reference only.High performance parts and components may require frame or material modifications. Proper training and guidelines are the responsibility of the purchaser or reader. You must check all dimensions and measurements against specifications and measurements supplied by the manufacturer. The reader of this publication assumes responsibility for the use of these materials and information.This information is intended to be used by trained and skilled professionals familiar with welding and proper motorcycle fork and front end construction. While all attempts have been made to verify the accuracy of these blueprints/plans, Custom-choppers-guide.com and its officers, owners, contractors, employees, and webmasters assumes no responsibility for errors, omissions or contradictory interpretation of the subject matter therein. There is no warranty either written, expressed, or implied for damages that may result from the application and interpretation of these drawings. Purchaser or reader agrees that these plans are for personal use only and may not be copied or resold in any form.
---