How To Stretch A Motorcycle Frame!
Question: How do you stretch a motorcycle frame? A completed frame (bobber or sportster)?
If you are looking for a longer bike look then there are two ways to accomplish this.
1st is to have longer forks.

2nd is to stretch the chopper or motorcycle frame.
Example of A Stretched Motorcycle Frame (Rat Rod Bobber by Squirts).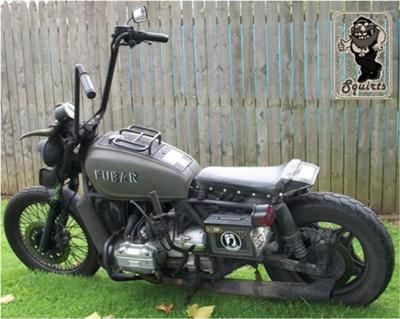 Since your question pertains specifically to how to stretch a motorcycle frame, I'll focus on that only:
The frame has several tubes that connect the neck to the rear axle plate. If you are lengthening the frame then all of these tubes will have to be adjusted in order to make it all work correctly. Keep in mind that the backbone is at an angle that connects the neck to the rear axle plate. Lengthening this distance is going to force the angle to change. Be careful when making this change because it will affect the engine mount at the top of your engine to the backbone.
The vertical portion of the downrails should be the same. The horizontal part of the down rails can be extended to accommodate the length you want to stretch. The stretch described will open up the center cavity for your engine and transmission.
If you are interested in keeping the engine and transmission cavity the same and still want to stretch the frame, you can do this by stretching only the rear part of the frame. The tubes that come up from the down rails and connect to the rear axle plate can be stretched. Again the backbone will need to be adjusted to make sure all will fit up correctly.
The rear fork should not be too complicated to lengthen to match what was extended on the bottom side.
This is a simplified look at how to stretch a motorcycle frame, but I think it provides a very specific insight into how it is done. Hopefully it helps.