How To Choose Custom Motorcycle Fenders...
Custom motorcycle fenders are essential to your new chopper and you can get very creative in selecting fenders.
Custom chopper (motorcycle) fenders can come in more then one size, ranging from a thinner rounded fender, to a much thicker option. Should you decide you want a special custom fender with some extra inches on it, the option to get an extra long custom fender is available. Another fender option a strutless custom motorcycle fender.
Blanks are available as well, which include custom motorcycle fender halves. These custom fenders are purchased welded, and hammered without any shape in the sides. A lot of experienced motorcycle enthusiasts choose this kind of motorcycle fender because they can customize the blank, which is their own unique design, and particular to their own custom chopper.
Tapered fenders are also available for your custom motorcycle. Take for instance this creation on Orange County Choppers Black Widow custom chopper...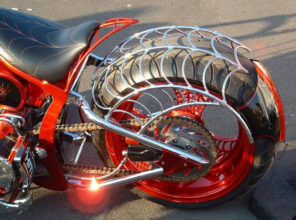 Fat Katz is another dealer of motorcycle fenders. They offer various amounts of design styles of in front and rear fenders, as well as strutless and blanks.
The Chicago, Vegas, and Sante Fe are a couple of model options for your custom fenders that are available to be purchased. No matter what you choose, when it comes to motorcycle fenders, be practical.
Here are a couple of custom fender tips:
Front fenders: Know the tire size.
Frame: What kind of frame are you using (softail™, rigid, etc)?
Stuts or no struts?
Strutless fenders may require welding a fender base plate to the frame.
Do you want to build custom fenders? Do you want to see a master metalworker at work and providing you with tips and metalworking tricks? Here is one of our favorite DVD that covers some the details of building custom motorcycle fenders.
If you want quality 'how to' advice on custom choppers, building choppers, and articles on custom parts and more, Our FREE Mini Course Called 'Ten Mistakes Motorcycle Builders Make And How To Avoide Them' is will more than impress you.
Related Articles:
Copyright www.Custom-Choppers-Guide.com