How To Build A Bobber!
Learn how to build a bobber and you'll have the knowledge that most people wish they had. And if you actually build it you'll have the skills that are envy of metalworkers and craftsmen around the world.
It sounds a little romantic doesn't it? Well, most people dream about building bikes, and building a bobber is one of the most popular choices. But less than 1% of those dreamers actually learn how to build a bobber and have something to show for it.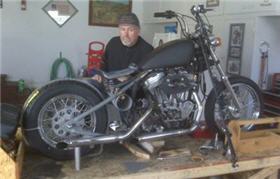 So What Does It Take?
All bikers have their own vision of what a one-off bike should look like. Or they have their own preferences when it comes to factory built bikes. Some like the Sportster style, some like the old school chopper look, and others are passionate about bobbers.
In my opinion bobbers are bad ass. But then there are others who think they are ugly.
Here's a basic blueprint on how to build a bobber:
If you have never built a bike before, and you don't have any metalworking skills (particularly welding) then you should start with a bobber kit bike, or a bobber rolling chassis.
Get a bobber rolling chassis if have some skills in modifying or working with metal because when you get a rolling chassis you'll have to modify it for the engine and other components.
Build a Bobber On A Budget:
Buying a bobber kit, although a great way to get your own bobber built fast (and have fun on the way) is not cheap.
Here's an idea...
Another option is to ask the manufacturer of the rolling chassis to do all the necessary mods for you. You can get bobber rolling chassis for anywhere from $900 - $3000 or more. It all depends on what you want. But the good news is you can let it sit and build your bobber piece by piece over time as your budget allows.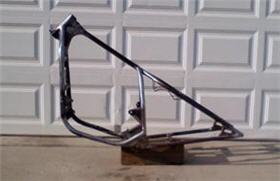 If you are good at working with metal, welding, and reading plans then you can build a bobber from the ground up. Bobber plans are highly recommended. Nothing is better than following a set of bobber frame plans. After all, you want your frame to be solid, reliable, and done right.
Building a bobber frame without plans is like trying to navigate your way through the Pacific without any navigation equipment. It can be done but it will take longer, is risky, and you might have to get emergency help.
So the bottom line is it's recommended that you learn how to build a bike by starting with a kit bike or rolling chassis if you don't have a lot of skill welding and/or working with metal. After you do that you can do a ground up build.
After you accomplish something like that you'll know what to do and the job will be much easier and more fun as you continue down the road of bike building.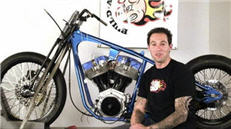 To get a good look at building a bobber this book and DVD is a good choice if you only have $30 on you.

But this bike building DVD set is the best of it's kind for just $50. It's called Build Your Own Bike. The bike he builds is a killer bobber chopper.

If you have a little metalworking and welding experience then get bobber plans and build a bobber from the ground up (with a little help from the guides above. Our bobber frame plans are the best in the world. Really, they are.