Why Sportster Choppers Are So Poplular...
Harley Davidson Sportster choppers are some of the most popular choppers for many custom bike builders and chopper enthusiasts.
Whether you want to build a chopper from a brand new off-the-showroom-floor stock Sportster or buy a basket case and start from the ground up, you can create any chopper you desire, from a slightly altered, mostly stock motorcycle to a one-of-a-kind, personalized dream bike.
Part of the appeal of the Sportster may be their sleek appearance even in the stock configuration. The "Sporty" as this model is often nicknamed, can actually be some of the easiest chopper builds, especially if you choose the Harley 883L or 1200L. The "L" refers to the fact that these motorcycles come right off the dealership floor with a lower frame and slightly increased rake.
So, if you want to build an easy Sportster chopper, you can simply extend the front forks one to two inches and be ready to ride. If you want a greater extension on your forks, it is better to do a little more work and add the needed rake to the neck to prevent the front end from rising up and ruining the overall low look of the Sportster.
Fans of Sportster Choppers who want a more chopped look, anything in the range of two inches over stock forks all the way up to the "Captain American" fully extended front end, will want to alter the neck of the frame. The amount of rake you want to build into your chopper depends in great part of how you want the finished chopper to handle.
While the long front forks can handle quite nicely on the highway, the turn radius of your Sportster chopper can be so great that you need nearly an entire parking lot to turn around. Also, extending the forks too far, especially when using old-school Springer-type front forks, can result in a ride that is a little more bouncy on a rough road than desired.
Some fans of sportster choppers take another, more radical yet reasonably easy, route to turning their stock Sporty into a chopper. This method involves the bolt-on chopper kit. It is easy to obtain a 5, 7, 9, 12, or even 14 degree over stock rake using these kits which include all the needed instructions to get it just right. The modification involves changing the triple tree to accommodate the greater distance from the front to rear tires, as well as addition of longer front forks.
Another method to create a Sportster chopper involves cutting the frame neck and altering the frame as well as replacing the triple tree. Yet another way to go is to simply remove all your Sportster parts and place them on a new, already chopped frame, then mounting your extended forks. This final method is often used by those working on basket cases, but any motorcycle can be chopped this way.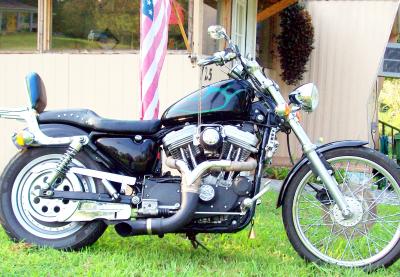 Since the introduction of the Harley Davidson Sportster in 1957, these motorcycles have continually experience popularity among those who build choppers either in their home garage or professionally. Unlike the 1957 model, today the Sportster comes with all the latest high-tech safety features such as self-canceling turn signals which can be maintained during the chopper conversion.
At one time, Sportsters were known for working bolts loose from engine vibrations. Of course, this never stopped the hard-core from using Sportster for chopper builds, but a few builders did shy away a bit. Later innovations such as rubber mounted engines have minimized those vibrations, giving the Sportster a smoother ride and increased durability needed for long hours on the road.
All Harley Davidson Sportsters today are purchased with soft tail frames. These sturdy frames not only hold up well, but offer the rider more comfort than the purist hard tail frames. As more and more financially comfortable urban bikers emerge from the aging baby boomers to join the ranks of chopper enthusiasts, these soft tail frames are more frequently maintained in the finished chopper.

Whether you want to grab a basket case at the next swap meet or you prefer to buy a brand new Sportster from a Harley dealership, you can build or customize your own Sportster chopper to be exactly what you want. Stop at only chopping the front end and maintain your stock paint or customize the paint on the gas tank, fenders, and even the frame as much as you wish. Perhaps the nicest part of creating a Sportster chopper is the fact that you have so many great options to investigate.
Upload A Picture Of Your Sportster Chopper or Bobber
Simply upload a picture of your bike and tell us the details. The more the better!
Your Fellow Subscribers Sportster Pictures and Details...
Click below to see choppers and street bikes from visitors to this page...

1980 Sportster Hard Tail

I bought this standard 1980 Sportster and turned into what you see before you! A hard tail! ECM Motorcycles, New Zealand. Hope you like it.
Home Made 1996 Sportster

This is my bike. I built this bike Called HMS "Home Made Sportster" using my 96 sportster engine back in 09. I finished it two years ago. It was always …
Hardtailing A 1979 Ironhead

I have a buddy I ride with every summer and he is my best friend. It all started at the end of summer 2011 he had hit hard times and was having a hard …
1999 Sportster XL1200

1999 Sportster 1200 XL883C: 120+ hp, 1200 cc Screaming Eagle kit bored .040 over, with custom head work, Mikuni HSR48, K&N Intake and Bassani drag pipes, …
2003 Sportster Chopper

This is my 2003 Sportster. I tell people I'm chopping it they laugh and say, "why would you use that?" My reply "Because I don't have the funds to just …
Sportster 883 Mild Stretch

Home made from spare parts - Sportster 883. Check the upper motor mount. 2 inch up and about 6 in the backbone. Total time: 2 months. Total cost: …
1999 1200 Sporty

Bought a 1999 1200 sporty for my good lady, but it was too heavy for her, so a good friend of mine, talked me into building my first ground up chop. …
Honda vlx Chopper

This Honda vlx chopper has a 48 degrees rake neck, 6 in trees, 230 rear tire with no modification to rear end, 2 inch drop in rear shock, 12 over forks. …
1986 Sportster Hardtail Bobber

I picked up a 1986 Harley Davidson Sportster 1100 that someone ripped into and had no idea what he was doing. Got it CHEAP! I got a craftech hardtail frame …
1975 Ironhead Sportster

This is a 1975 Ironhead Sportster, Rigid, 77 Motor... I'm slowly but surely making headway, still have a leaky oil tank to fix and it really needs a …
Ironhead Hardtail Sportster

I am building a 1971 Ironhead Hardtail Sportster chopper. I am building this bike from frame up. it is my very first complete build up I bought this project …
Sprotster Fatbob Project Not rated yet
I plan on turning my 2001 XL Custom into a fatbob sprotster with Apehangers. I love the fatbob look with Ape Hangers . I also like fishtails. I …
Sporty Iron Bobber Not rated yet
Sportster iron. Tank lift 2", red filter, white walls, lowering kit, key coil moved, and a 48 seat.
1974 Ironhead Chopper Project! Not rated yet
This is a 1974 Ironhead I'm working on! I picked this one and a parts bike for a good price and I'm doing some modifications to it. I'm installing …
Shelster total rebuild project Not rated yet
Hey guy's i'm totally rebuilding the Shelster, 1971 Ironhead Sportster rigid chopper. Mind you this is my very first complete frame build up that I'm doing …
1971 Ironhead Sportster Chopper Not rated yet
Shelster Part 2: Well considering this is my first frame up custom build chopper here's some more pictures of my 1971 Ironhead Sportster Chopper. Named …
1973 Custom Ironhead Not rated yet
This is a 1973 Harley Davidson Custom built Ironhead SPORTSTER, Named "Gargoyle". Because the "silver vein" powder coat paint used on most all of the bike …

Related Sportster Choppers Articles:
Sportster Bobbers Harley Davidson Sportster Harley Davidson Custom Harleys How To Build A Chopper V-Twin