Sportster Conversion: Tips, Ideas, and Advantages Of A Sportster
A sportster conversion is another great project for veteran or first time builders. Assuming you have a sportster. But for some motorcycle enthusiasts the first thing that comes to mind when thinking of a Sportster is that while it is a Harley Davidson, it isn't "really" a Harley and they will actually give more respect to the Honda V-twin owner. That's just reality for some. But for many, a Sportster is a better ride.
I wouldn't scoff at a Sportster. Many builders and top of the food chain gang leaders like Sportsters; Hell's Angels, Ralph "Sonny" Barger, preferred Sportsters.
However, a Sportster conversion project is a great starting point. You start  with a Sportster but you can end up with a serious chopper that will garner any motorcyclist's respect.  There are 2 main advantages to going this route:
Sportster Conversion Cost...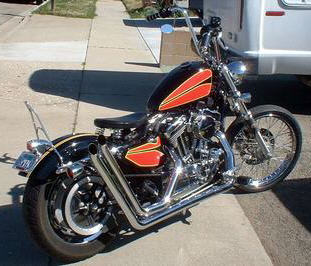 There are a number of cost advantages to choosing a 
Sportster. First of all, you can currently get into a Sportster new for less than ten thousand dollars. If you plan on doing a Sportster conversion and making it into a full-blown chopper though, you should look for a used Sportster.
Sportsters do not retain their value as their Road King and Dyna brethren and a three year old 1200cc Sportster has a retail price of well less than $8000. And if you buy from an individual you can easily knock five hundred to a thousand dollars off the price.
Then there is the cost of obtaining parts for your Sportster conversion. Because you are starting with a cheaper bike, your conversion project is going to be geared around  that. If you opt to buy a new frame, it is designed around the 1200cc Evo engine rather than the much heavier engine the big-boys Harley's  have. This shaves off weight and cost of the new  frame. The Sportster comes equipped with a chain final  drive. If you opt to keep this, it is cheaper and easier to deal with on a stretched frame and will easily handle any performance modifications you decide to make to your chopper.
Finally, you can recoup some of your expenses by selling the take offs, and selling the completed bike. Anything you take off and you aren't going to use can be sold locally or on the internet. This keeps your project within or even under budget when it is all said and done. 
Here are a few Sportster conversion project ideas:
Sportster Bobber Conversion: $2,400 - $5,000
Front end conversion: Springer: $700 +
Hardtail conversion: $1,700 - $1,900
Registration of your Sportster Conversion (Registering A Sportster Chopper)!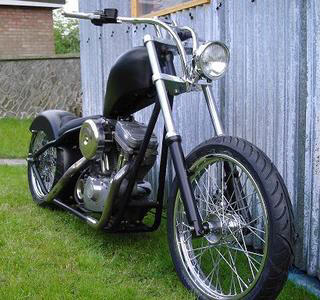 The biggest single advantage to starting with a Sportster is only realized after you have done all of the conversion work. By having a VIN, your bike is registered as a Sportster, no matter how insane your conversion project has taken you. You may have to go down to where you register it for them to inspect it and note that it is a custom bike, but you have a VIN. Going with the same parts but building up from scratch can lead to a huge headache when it comes to registering the bike.  Even some of the kit bikes that are available for purchase can't be easily registered; especially when compared to the ease of registering or re-registering a Sportster-based conversion project.
Related Articles: 
Register Your Chopper
---
---