1 Off Home Made Springer Mini Bike
by Tufdog
(Missouri, U.S.A.)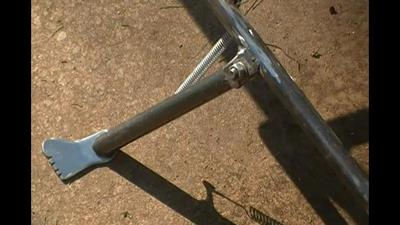 Babies Foot Kick Stand
I started having ideas of things I would like to create and try on a custom springer mini bike, 1 off level.


Probably like you! You know the things you never see anyone do, but you thought of it, and now you can't shake the idea.
So, I began creating this idea in my head incorporating all these little things that have been eating at me over the years.
I decided to start small, with what I can afford right now. A good friend donated a set of Baja mini bike wheels and axles, and I bought a pipe bender. And I was off to the drawing board!
This bike has a Rigid frame, with a Springer front end. All made by me, at home, in my garage - shop.
A 6.5 hp Predator engine powers this little beast.
I made a kick starter system that works on mini bikes & go karts, or even a lawn mower (Home Made).
Other features include:
Tricked out Header (Home Made).
Fishtail exhaust, (Home Made).
Foot shaped foot boards, (Home Made).
Babies foot, kick stand pad, (Home Made).
Kick Starter, (Home Made).
It will also feature:
Bar Enterprise Solo Seat.
Pauchgo 4.2 gal tank.
Torque Converter.
Triumph Handle Bars.
And all kinds of other goodies!
You can see the whole build on my You Tube channel, Just look for Springer Bike. It'll Probably come up.
Thanks Custom Choppers Guide, and every one else too. Let me know what you think.
Remember: We're all in this together. Ride safe!