1947 Knucklehead Trike
by Fingers, aka Knuckles_Draggen
(Cheshire, Oregon, USA)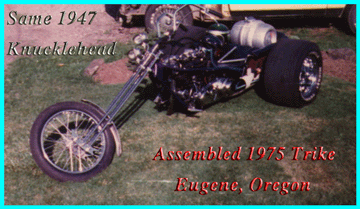 1947 Knucklehead Chopper Trike
1947 Harley Davidson Knucklehead Chopper Trike, Lowrider: 61" Knucklehead EL /w collection of engine drive sprockets, toe shift 4 speed transmission /w collection of transmission drive sprockets / including rear drive sprocket options, all forward/no reverse, Panhead frame /w 45 trike wishbones and 45 rear end /w additional trussrods, 14" 50 tires (14x10 Craigers / Mickey Thompson 50's in photo), 20" over springer front end, 6 bend pull backs /w 8" half diamond risers, 6.5gal Johny Tank (Pony Keg Tank /w Chorevet Gas Cap in photo), king/queen seat. Frame cradle has no tank design so all engine in your face, just bolt on upper engine mount.


Needed a passenger to hold gas tank because of gravity flow, until tank frame built.
Wrecked the 2 wheeler and rebuilt as the Trike in 1975. Still own it today. Haven't been able to ride since I got hit by a falling 90 lb bail of hay at 120 mph in 2003. May sell if the offer price is right. A good idea, never put your feet down while still moving or if your brakes go out. I have. LMOL.
Originally bought this beauty when I was a kid, in 1975. The second photo is what she looked like as a 2 wheeler. 16" over springer and pullbacks. Sweet ride. Wore ½ steel heel plates on my boot heels and they made 14 foot spark trails at night, when I set them on the highway at 55 mph. Kinda insane, but what the heck.
Knuckleheads Rule the Beauty in the Beast! Don't think I could ever ride a stock bike again. Been riding choppers since they were bicycles.