1967 HD Trike
by Dick Hartman
(Fremont, In. USA)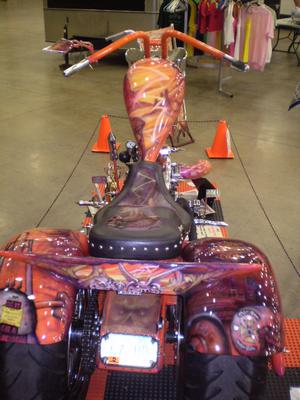 Custom Built Three Wheeler
Custom Built Three Wheeler: 1967 Custom Harley Davidson Trike.




Engine: 1967 Harley Davidson. Pan/shovel


30 over s&s carb, andrews "a" grind cam.


Transmission: 1967 4 speed


Hand shift - foot clutch


Belt drive primary


Chain drive final. Frame: tvc custom, hardtail trike.


47% rake + 3% triple trees


6" up—3" out stretch


2" & 1.5" diameter.


Frame, fuel tank, oil tank, rear fenders, all molded to be one piece.


Front forks 58mm inverted 12" over.


3% triple trees


1.5" handle bars


Internal throttle cable


Grips are same size as bars


60 spoke 2.25 x 21" front wheel


Mh 90/21 front tire


60 spoke 18 x 8.5"


260/35 r 18 rear tires


Flht 4 piston rear brakes. Stainless steel fuel and oil lines. Wiring and oil lines are hidden as much as possible-routed in frame.


3.5 gallon gas tank


Flush popup cap


Paint:


house of color


primer - grey


base - white


Color: tangeglow pearl. clearm 10 coats, 1.25 gallons.


Art work done by www.hairydidit.com