1987 Virago Bobber
by Per Ole Nilsson
(Kil, Sweden)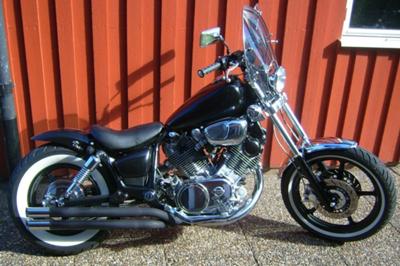 Virago Bobber
It's a 1987 Virago 1000. My Virago Bobber was Rewired to have the ignition key below the saddle.


Electronic gauge, much of the el-harness now behind left side panel where the extended fuel tank used to be.
Fuel pump eliminated. New headlamp, LED blinkers, the rear ones are a combined blinker, running and break light.
Shorter shocks, rear of frame removed. Saddle homemade out of the stock saddle cut in half and remodeled.
Choke moved from handlebar to the left canister below the tank. Exhaust homemade.
New whitewall tires and painted rims. Homemade handlebar in pictures, now installed a medium ape hanger. Great fun on a low budget.