1993 Yamaha Virago 535
by Jon Starks
(Louisville Ky)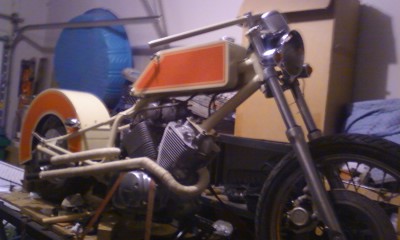 Virago Chopper Project
I bought this wrecked 1993 Yamaha Virago 535 and decided that putting it back to stock condition was not an option.


I fabricated the tank, handlebars, fender and seat. I cut the rear of the frame off and made it a hard tail. Shortly after that, I cut the frame again and eliminated the "under the tank" air box.
I added a true backbone and stretched it 6". The muffler had to go so I fabricated some pipes and painted them black with tan exhaust wrap (I am currently debating on adding baffles or just paying the tickets).
The paint on this 1993 Yamaha Virago 535 is a really antiqued white and orange. I have a little more work to do on it but I should be burning down the roads soon