25 Year Break Bobber Build Update
by James Lintott
(BC. Canada)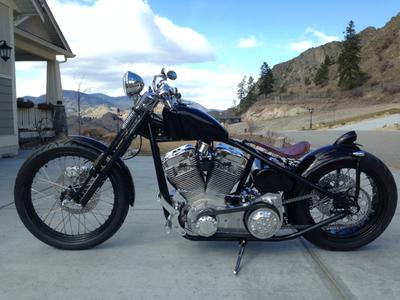 34/0/0 Kraft Frame, DNA -2
Here's an update of my finished Bobber product.


I've completed the build and couldn't be happier with how it turned out. In the final stages of the build I didn't like to look of the aluminum parts on the bike and thought they should be polished or changed to chrome. I did some research on polishing aluminum and ended up buying a pedestal buffing & polishing machine so I could do all the work myself.
The polishing worked out awesome. All the aluminum parts now have a brilliant shine to them and just add that extra wow factor to the build.
I'm intending on putting some miles on the bike, and with the little sporty tank I know that I won't get too far on a tank, so I've added an aluminum tank on the rear right part of the frame that will hold emergency fuel.
I went through the wiring a few times. Initially I installed the harness and completed all the connections, but wasn't 100% satisfied with how the wiring was ran. After obsessing about it for a sleepless night I tore the wiring out and made the necessary adjustments and installed it in the manner that the bike deserves.
Note:
Here's a link to a youtube video
of the first ride on the bike.
Thanks again to Custom Chopper Guide for the awesome
"Build Your Own Bike" DVD
. I referenced the DVD all throughout the build and found it extremely helpful.