82 Suzuki Mandera Trike
by Mark Kromis Sr
(Easton, Pa)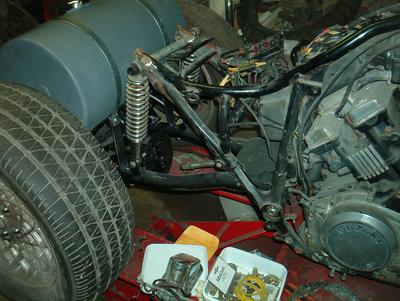 Suzuki trike project
First of all the trike I am building is a salvaged 82 Suzuki Mandera 1200cc V4. I am not one to take a perfectly good machine and cut it up. This machine was hit in the rear twisting the swing arm and very end of the frame.


After removing the swing arm and assessing the damage I went to a local salvage yard to look for a rear diff. I found one from a Cushman golf cart, since the bike is shaft drive it worked out well. I just married a second shaft from a Yamaha
shaft drive to length.
I used the pivot from the bent swing arm and welded 2 lengths of tube with minor sizing to fit up to the Diff. I cut the upper end off the frame and mounted the shocks.
Since the machine uses a electric fuel pump I salvaged a water expansion tank and modified it to fit between the rear tires, the tank mounts also hold the fenders.
I plan to make a backbone cover to hold gauges and a stereo. The controls are both foot brake, and foot clutch with a suicide shift.
On the Diff I installed Chrysler mini-van drum brakes, and used the van hubs for adapters from the Cushman hubs. Cushman used a single disk brake on the drive shaft end, not enough for street use.
I welded a modified auto starter ring gear to the disk and plan to use a starter motor for reverse.Here are some pix to give the general idea, forgive the clutter I'm working in my garage storage area and space is tight.