Introduction to Airbrushing Flames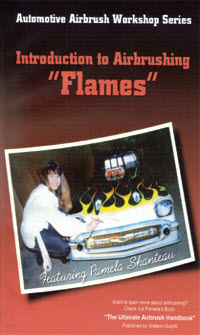 A step-by-step guide to airbrushing flames. In this instructional DVD you'll shown the insiders tips and techniques to airbrushing on metal. Whether you are a beginner or advanced airbrusher, you will discover the secrets to of auto airbrushing.
If you want to paint flames on a car or truck, or painting flames on motorcycle tanks, you'll find this DVD to be a valuable asset. An Introduction To Airbrushing Flames will continue to reward you with new tips and techniques to airbrushing flames the right way...
The airbrushing master and legend, Pamela Shanteau, will take you by the hand and show you:
The equipment you need and how to use it! 
Correct uses of tape and masking -- explained in detail!
How to paint flames step-by-step!
And much more!
Highly Recommended!

GUARANTEE: If you honestly believe 'Introduction to Airbrushing Flames' is not everything that we say it is and you are not completely satisfied with it, return it within 30 days and we will refund every penny of your money with no questions asked.
120 Minutes DVD format
$29.95

---
---
---
Save $9.90! Order an Introduction To Airbrushing Flames, Motorcycle Gas Tank Airbrushing, and Automotive Mural and Masking Techniques DVD's, and you'll get $9.90 off!
Regular Price For All Three DVD's = $89.85
U.S. orders -
Your Price With Discount = 79.95 + $5.95 shipping/handling



International orders -
Your Price With Discount = $79.95 + $12.95 shipping/handling


 
---
---
---
---