Bobber Build after 25 Year Break
by James Lintott
(BC, Canada)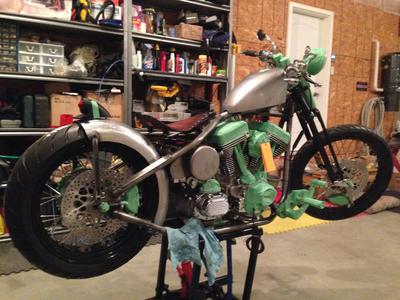 Kraft Rigid Frame
It's been over 25 years since I helped a buddy build a shovelhead bobber. This year I've decided to get what I need to build up a nice ride and to also test myself to see if I have the patience and whether or not I enjoy doing a build.


I'm going with a Kraft rigid frame, Ultima driveline, DNA springer, drag bars, and a sporty tank.
I forgot how much extra fab work there is to do on a homebuilt custom, so I had to pickup a little Lincoln MIG welder and do a lot of practicing so my welding work would be worthy of the bike.
One of the big challenges on the project has been getting the proper axle spacers to get the wheels running in the correct position. The rest of the build has been going great and I'm impressed with how the bike is looking.
A few more days of making sure everything is in the correct place and I'll be getting ready to tear it down and send out to paint.
The BYOB DVD set has been awesome.
I've had to reference the videos quite a few times during the build.