Buell Bobber Update
by Sean Garrett
(Medford, OR)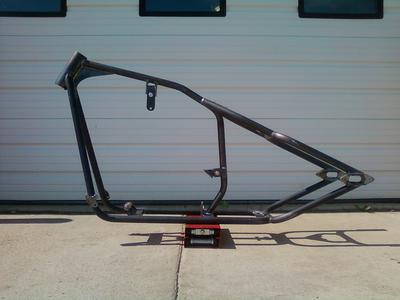 Frame - just built from Big Al Wilkerson of Bitter End Old School Choppers
Last spring (2013) I had a custom hard tail frame built by Big Al Wilkerson of Bitter End Old School Choppers. I went to Big Al, because he was one of the very few people who could build a stout, quality frame for a Buell XB engine.


I had a donor/wrecked '03 Buell XB9 and wanted to build a custom bobber/bar hopper, and going with a hard tail Buell was very appealing to me, as it wouldn't be just another 'Sportster bobber'. As I'm in Oregon and Big Al is in Iowa, once I got the frame I ended up working with a friend and local fabricator/bike builder - Jerry Mallory, of Road Rage Choppers (Central Point, OR). I worked with Jerry to do all of my custom fabrication for welding of various mounts, bungs, etc., and for customizing my peanut tank and rear fender, as well he did the belt conversion to chain and set up all the wheel, chain and sprocket alignment.
Today, the mock-up is now done and Jerry and I are finalizing the last few minor fabrications and will soon be doing final prep before paint and powder coat. As a Buell engine does not have any chrome on it, the theme of the bike will be some color on the sheet metal (metallic lime green w/ black flames) and a lot of black (handlebars, hand controls, grips, forward controls, springer front end and parts of the engine).
I am initially going to run chrome laced wheels however. One, because they're 'traditional'; and two, because I had them laying around with new rubber on them (they came off my 2006 Dyna Wide Glide when I put new billet wheels on that bike).
I'm looking to get the bobber to paint in April and get it thrown back together in May. At which time I will be re-building the engine and bumping up the CC from a stock 984 to 1050 (biggest jugs and pistons I can run on this engine without having to bore the cases, so 1050 it is).
A Buell XB Firebolt engine with those larger cams and way-awesome heads, and now with larger (1050) displacement, should be plenty 'peppy' enough for a lightweight bar hopper. There are three local bike shows here in my area in southern Oregon between June and August, and my goal is to have it done and ready to enter in the first shoe in early June.
Here's to getting everything done in the next 10-12 weeks!