Cave Built Hard Tail Frame
by Pramod Bhushan
(India New Delhi)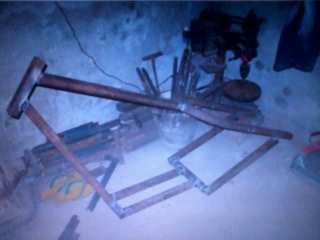 new hard tail frame
Hi friends its long time since I have started my second bike I learned a lot from cusotm-choppers-guide.com. They are my hero and real teachers. I learned how to make a frame and it's only because this team is here for everyone.


I am attaching some pictures of my newly designed hard tail frame which cannot be possible without Custom-choppers-guide.com
My first project was a big failure but this time I started again with the help of some good videos and good framing and the whole process provided by this team for making a wonder full hard tail frame.
I want to thank custom-choppers-guide.com and also want to ask some suggestions if there is anything wrong in that frame.
Please do suggest some corrections, which needs to be done with that frame.
This time again it is a homemade frame without any help of a professional. I have done it only with custom-chopper-guide.com.