Chaplains Bobber Honda 750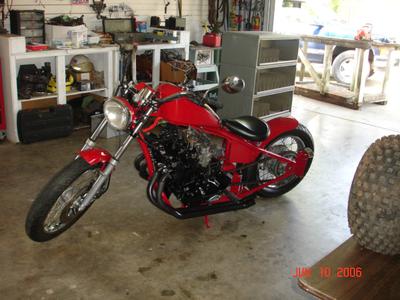 Chaplains Bobber
Honda 750 Bobber: After watching the Orange County family build theme bikes, I felt the need to build a bike I call my Chaplain's Bike, since I am the chaplain for our county jail.


I chose a 750 Honda and purchased a frame from the best place I found that builds custom frames for Honda fours.
I used all the original pieces off the wrecked Honda I had already purchased except the tank. My bike has a 1200 Sportster tank. I did have to rebuild the engine due to wreck damage. I painted it blood red to symbolize the pure, shed blood Jesus gave as a sacrifice for our sins.
The engine is black to symbolize the evil heart of man which we are born with due to original sin committed by Adam & Eve. Every human ever born inherits this original sin. You doubt me? Then how does a one year old know to look you in the eye with defiance and does what he wants to anyway? Ha Ha!