9 Great Chopper Gifts!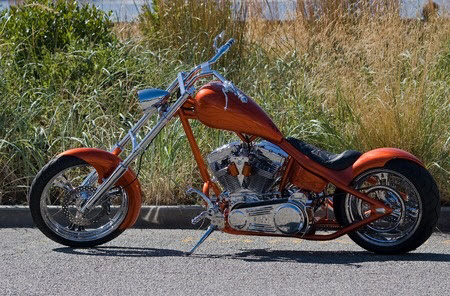 It is not easy to choose gifts for bikers and chopper enthusiasts, they are a different sort of bunch with highly individualistic taste and for that they are even considered rebels.
So the gifts must reflect that too but then it is not easy to understand them either which leads to difficulty in choosing what gift to give them.
If you are looking for a gift for your friend, family, lover or even for yourself who is a chopper lover, there is a high probability you won't have much idea what to choose from. As far as where to find gifts for chopper enthusiasts is concerned, I am sure you will find just the right place when you look over the internet. There is a vast choice of things to choose from. 
But if we come onto the question of what to gift it becomes rather complicated but here is a list that would provide you useful information about the biker tastes and about the things they might like for you to gift them:
1. Boots: The most popular gift for chopper lovers is the right kind of boots, perhaps the Harley Davidson boots?
2. Motorcycle Gloves: Bikers always need new gloves you can be sure about that. Find some high quality gloves for summer and/or winter conditions. That would certainly make a great gift for a biker.
3. Bandana/Head-wrap: Chopper lovers are not usually into the helmets, bandana is way cooler and it is probably the most popular gift for the chopper lovers as well because it helps keeps the hairs in their place quite apart from being the things that complete the image of a chopper enthusiast but if the person prefers helmets you could go for them too.
4. Chopper License Plate: A rather unique and novel looking license plate won't be a bad choice too. 
5. Chopper cover: Bikes need a cover and you can find them easily on the internet. So if you or the one you are looking up the gift for need it you should go for it.
6. Flasks: Flasks would make a handy gift for keeping water in need or just for a drink.
7. Glasses and Goggles: Choose any of the glasses you might find to be suitable, motorcycle glasses, sunglasses or motorcycle goggles and they would all make a great gift.
8. Tool kits, Tire Gauges and other miscellaneous stuff: For a biker who is really in love with his chopper and keeps it well maintained, these things would make a wonderful gift but even if they are not these tools can come in handy on the road when the chopper may present some trouble. So this is another useful chopper gift idea you could follow.
9. Bike Flags: Bike flags and accessories related to that can make a good choice for a gift too. Other gift might include different kinds of jewelry, lighters and lighter holders, wallets, jackets and stuff like that. If none of these fit your or the person to whom you are making the gift, let me tell you stuff that is more general in nature but which would help you choose the right kind of gift for your loved ones.
The most popular thing when it comes down to chopper gifts is the leather. It is almost as if they complete the look of a chopper enthusiast. Not to mention leather products are reliable so they last a while which makes them a particularly useful gift to give. Leather gloves of different kinds, boots, wallets and wallet chains, motorcycle vests made of leather, all would make a great gift and so would motorcycle leather chaps. 
Leather motorcycle facemask is also a good gift for the face protection. Mesh jackets are a good choice as well.  Such things as belts of the biker and saddle bags for the motorcycles also make a great gift. 
A bit of extra sparkle and shine on the choppers also doesn't go amiss. So some chrome accessories would be useful too. Adding different chrome accessories for the bike to gift basket and presenting them would make a great gift for chopper loves. Trust me, they always come in handy though you have to be sure that you choose the right kinds of accessories for the right model of chopper before gifting them.
If, instead, you want to go for gifts that must reflect the biker image of our chopper lover but should not necessarily include something related to biking you can go for other things. T-shirts are a great gift no matter what kind of person it is. To add the biker and a rebel touch you can gift t-shirts that contain symbols related to biking. T-shirts from Bike Week, Sturgis, or other events would be loved and appreciated by any biker!
Specially designed jewelry for the bikers is also available on the internet. Motorcycle chain necklaces, assorted biker rings, motorcycle chain bracelets, and biker earrings can be found for both men and women.
There is also a possibility that you might be looking for the gifts for a family where the friend is related to biking but you don't want to go for biking gifts you can go for such stuff as mugs and clocks with biker themes. For babies you can always choose t-shirts, hats and caps and similar apparel, even biker themed baby pacifiers are available, you know?
Honestly, though the choice might not be that easy to make there is a vast array of chopper gifts available if you just go around looking and have a basic idea of what kind of things you are looking for, you will surely end up finding something that would suit the needs as well as the taste of the one you are gifting it to. Though do keep in mind that when you are gifting something to someone and they have a particular brand of chopper it would be better to go for that brand while choosing the gift if you are looking for a gift that might reflect the brand it is made by.
---
---