Customized 1981 Honda CB750
by Drummerdave
(Kansas City, MO)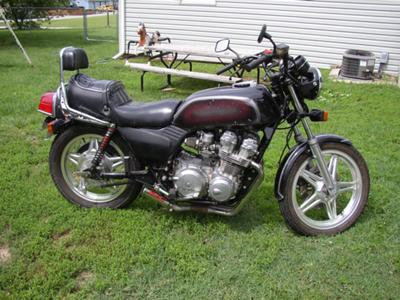 1981 Honda CB750
I've loved this 1981 Honda CB750 bike for a long time. It was my father-in-law's bike until he handed it down to me. It had a horrible paint job, seat height was way too high for me, the forks leaked in a bad way, the plastic signal light stems were all damaged and broken and the aluminum was all oxidized.


Also it still had the original seat and backrest (hate those things). You can see most of this stuff in the first two pictures. I took those pictures the day I got the bike. Since then I have painted the tank and side covers, put on some short hanger bars, polished the aluminum cases, changed shocks to a heavier shock and lowered the bike with lowering blocks, cut 3" out of the seat and cut about 3" off in length then reupholstered it, installed a new pair of 2" longer forks from ebay, got rid of the rear cowl-grab bar and backrest and installed a brake light and signal lights from a '73 cb750.
It's still a work in progress. Monday I will be installing the new master cylinder I ordered off ebay-all aluminum-no more plastic crap. Will be doing more to it in time, I'll send you new pics when major changes are made on the customized 1981 Honda CB750.
Drummerdave