Hand Made Trike
by Dave
(Sarnia Ont. Canada)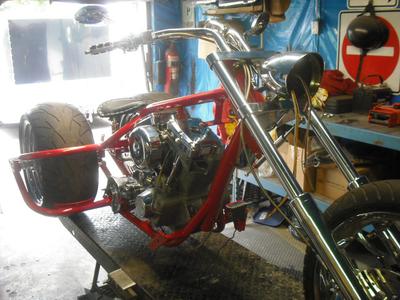 Hand Made Custom Trike
Still got some work on my custom trike. It should be done in a week or 2. All parts are hand made from stainless steel and polished. 98 inch S&S 6 speed 3 .35 open belt drive. All molded frame victory red. Rear wheels 310/35/18 80 spoke.


In board wildwood brakes, duel chains, 7 deg. rake. Hand made seat on 2- 4 inch shocks. Oil tank sets between the rear tires on the frame.
I have built 6 choppers in the past and this is the first Trike. The next one will be a V8 Ford Flat Head with a 2 speed and revers automatic 9 inch rear end. Well that's about it for now.
Ready for oil tank gas tank, oil lines, wiring and done.