Home Made 1996 Sportster
by Ala Yahya
(Commerce Twp, Mi)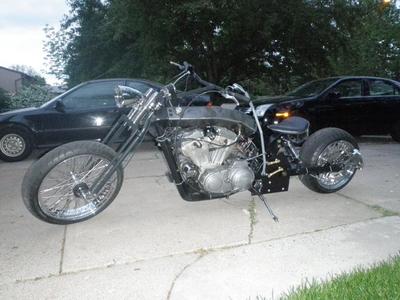 Home Made Sportster
This is my bike. I built this bike Called HMS "Home Made Sportster" using my 96 sportster engine back in 09. I finished it two years ago. It was always an idea in my head to build this frame and put the sportster motor in it, I've been riding bikes since I was 14 and had customized many of my old bikes.


But the time came when I wanted a unique motorcycle and had nothing out there that fit what I was looking for and the costs were a bit higher than what I can afford at the time. I had my 96 sportster and my wife suggested that I should just build my own. I'm a manufacturing engineer by trade so I had the basic skills to fabricate and weld so I gave it a go.
I wanted to have a bike that is very simple, a basic rider no frills or bells & whistles on it. I wanted it to have a springer front end, a suicide shifter, a 21" front wheel and a fat rear tire 250. That was the start of the project. The shape and design of the bike came after a challenge also from my lovely wife that I could not turn the parts that I had in the garage in to a bike…. But it turned out to be a good thing, My kids helped and we made this a family project of sorts.
The frame encompassed the gas tank and the oil tank. The
frame is built out of square tubing that connects together at the rr of the engine and the gas tank sections. It does not have any foot controls and it rides very nice. Can't say that every one that see's it likes it but I know that they are blown away by it and agree that it is different.
I've been riding bikes since I was 14. I've always been a gear-head fixing cars, bikes and what ever needed to be fixed. At the same time I always wanted to build my own bike.
I'm a manufacturing engineer by trade and wondered if I can build my dream sportster. One day my wife challenged me to build it rather than just drawing it and talking about it. And with help here at custom-choppers-guide.com I did. I work long days and some weekends so it took me a couple of months to finish the frame. And about a year to complete the bike.
The square tubing frame is made with the the gas tank and the oil tank contained inside it. All pieces were formed and fabricated in my garage, all was hand made.
It has a springer front end, 21in front wheel, and a 250 rear tire. I built it around a 1200 sportster engine but ended using my 883 motor in the end. It has a stick suicide shifter no foot controls on the pegs, one brake in the rr. It was a fun project and I learned a lot from it.