What Is A Kicker Chopper or Bobber?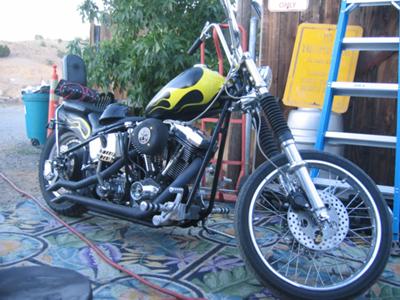 A kicker chopper is as hard core as they come, unless of course it also has a suicide shift as well. If your kicker has a suicide shift then I am sure you get a lot of attention. You probably intimidate other bobber and chopper owners because most of them just have an electric starter.
Imagine you're parked next to a nice bobber. You kick start your kicker chopper. And then the bobber owner sits down and presses his little electric starter. Kind of funny. But then again, if you need to get out of Dodge in a hurry and your kicker isn't kicking over, the guy or gal with the electic starter is the winner!
So it comes down to taste and lifestyle really. Anyway, what is a Kicker Chopper? Lets take a look...
Take yourself back to the 50s for a moment to see how the original Kicker made its debut. Way back at the end of the World War II veterans were drawn to motorcycles. Particularly the Harley Davidson brand. But some bikers wanted something a bit more sleek and more powerful. So instead of scrapping the Harleys, what did they do? You guessed it man. They started stripping or chopping off front fenders, turn signals and even the front brake, bobbing the rear fender, sometimes even stripping off the seat springs.
These guys reasoned if your machine could do without it, dump it because it'll go faster. Then the bikes would have a clean frame with just the essentials sitting there. With all the crap gone, these rebels started brain storming and thought it would be cool to lengthen the front end becase it will really give the bike that cool chopper look with extended front end after the frame got modified.
With the modern version of the Chopper, many builders sported electric starters, but who would forget the thrill of firing up your machine's pistons by kick starting it. That is where the Kicker Chopper with the old school kicking started getting popular once again.
It may be an extra accessory, nonetheless it gets the blood pumpin and it's not for wimps. It's pure bad-ass biker stuff. You better have some muscle on those legs! Some custom kits now include a chromed kicker arm with a solid brass bicycle type pedal, making your bike look sharp yet, lean and mean.
Creating Your Own Unique Style Kicker Chopper
Don't you just love the sound of piston music when you fire up your machine? What better way to get your motor running than by kick starting it into motion. Not to even mention the sound of your pipes. These cool sounds are sure to fire up any avid biker in getting their own custom made Kicker Chopper. Besides, who does not want to be the envy of their town by sporting an unique customized chopper all their own.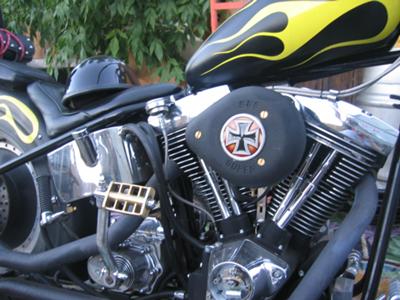 Who of you are not desirous of a fine smooth ride that you can call your own with unique decal on the tank, neat looking chrome finish on various parts of your bike and shiny brass on your kick starter. You may even want to throw in a narrow springer on your front end for a really cool look.
Kicker Chopper Kits
If you badly want a kicker, get yourself a kit and transform you bike into one. If you have the right frame and engine you can find a kit that will have you up and riding in no time. There are several sources including Amazon.com, or BakerDriveTrain.com that have some real functional kits that are sure to suite your taste.
Another option is to buy a chopper kit or bobber kit. With a little extra money and some work you can transform your bike into a kicker as well. They have Bike Kits from Custom Chrome which includes everything except for gas and paint. There are other Bike-In-A-Box Kits, like Sucker Punch Sally's. A bike in a box, or kit bike, is a complete build it yourself kit where each component have been carefully selected. For turning heads, you will find the Pro One Bike Kits a sure winner with top notch pro street chopper kits.
My advice to any aspiring Kicker Chopper fan is to go out there find your dream Kicker Chopper, build it, spruce it up by customizing it and go for your ride into the wide open spaces.
Or, if you have the dough, drop it on a completed build. There are several on Ebay or you can hire a builder to get it done for you.
---