Discover Mig Welding Basics And Learn Advanced Mig Welding Procedures In This Amazing DVD Guide!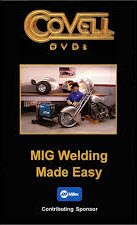 Here's a new guide that covers mig welding basics and advanced mig welding techniques that will boost your welding skills to a whole new level.
Mig Welding Made Easy is Ron Covell's newest metalworking guide on DVD. In this Mig Welding DVD Ron takes you by the hand and shows you how to perform mig welding basics and advanced Mig welding techniques for your metalworking and bike building projects.
Mig welding is widely used, but most people don't understand how each of the variables in Mig welding affects the finished weld. 
But this DVD covers mig welding basics and makes it simple and fun to understand. A beginner will learn loads of new information. But don't let that fool you if you are a veteran welder, because a seasoned pro will learn a great deal from it as well, Guaranteed!
In Mig Welding Made Easy Ron goes through every facet of the Mig welding process one step at a time, giving your clear descriptions of how each variable affects the weld, including wire speed, voltage, stick out, gun angle, travel speed, and gas flow. 
Ron also covers plug welds, patch panels, how to weld aluminum, and how to use flux core wire. But that's not all...
Bonus: A section on Plasma Cutting is included and you are sure to enjoy it and learn a great deal from it as well!

If you want to learn mig welding basics and advance your skills to a new level as a veteran welder, Mig Weling Made Easy is simply a must have DVD.  Highly Recommended!