Custom Motorcycle Fabrication DVD Guide - Motorcycle Metal Fabrication:

From Sheet To Street by Ron Fournier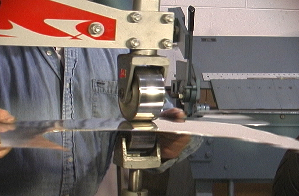 Finally! Custom motorcycle fabrication is made easier with this new 2 DVD Set:
Ron Fournier, one of only a handful of legitimate master metal fabricators, shows you how to create custom motorcycle sheet metal parts from scratch with these one-of-a-kind DVD's.
In Motorcycle Metal Fabrication - From Sheet To Street, you'll get up close, step by step instruction on how to construct an aluminum gas tank, fairing, and front fender for a custom motorcycle. 
But that's just the beginning.
Featured is a step-by-step guide to fabrication of the custom bike's entire rear section. This detailed section includes fender fabrication, sides, and seat pan.
The shaping process is detailed, logical, and Each step in these motorcycle fabrication DVD's is clearly demonstrated in a manner that shows you how to make custom parts of your own design.
Here Is A Birds-Eye View Of What Is Demonstrated On These Professionally Made Custom Motorcycle Fabrication Instructional DVD's:
Project Planning
Pattern Development
Buck Design & Fabrication
Annealing
Blocking and Smoothing
Metal Shaping using an English wheel
Shrinking & Stretching
Heliarc Tack-Welding & Gas Welding
Tips on Final Trim & Fit
Metal Finishing
2 DVD's: run-time is approximately 210 minutes...


There is no brushing-over the little details to leave you guessing what to do! Ron's easy to understand explanations and little known metal working tips will 'de-mystify' most of the 'magic' that happens as metal takes shape, forming custom motorcycle parts that most people dream about.
From pattern to finished product, Ron explains in detail custom metal work. The end result from these custom chopper fabrication DVD's is a professional product that is ready for paint.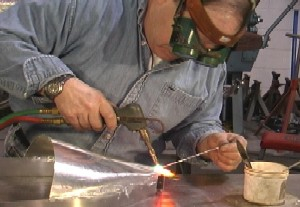 The Bottom Line: After viewing this DVD and putting Ron's teachings to practice you'll be armed with fundamental metal shaping knowledge that many metalworkers don't know, or forget.
With some essential metal working and fabrication tools and a few 'Secrets' of the trade (that you'll learn on these DVD's) you will be able to take your next motorcycle or metalworking project From Sheet To Street In No Time!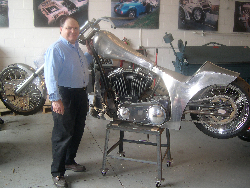 Related:
For more information on motorcycle fabrication subscribe to our free custom chopper building mini course. Or read this article on how to build a custom bike.
---