Norton Choppers, Bobbers, And A Little History Behind The British Bikes...

Norton choppers get a lot of attention in Britain, and over here in the USA they are a unique and growing group of bikes.
If you really want to stand out in the crowd in the USA, get an old Norton bike and chop it or make a Norton bobber out of it.
Norton is a name synonymous with the British motorcycle scene, something that is not really that surprising given it is one of the oldest English motorcycle companies still trading.
Although it is a well known English brand there is a big reason that Norton is still a big name today, this is because many people chop old Norton bikes to make Norton bobbers and Norton choppers.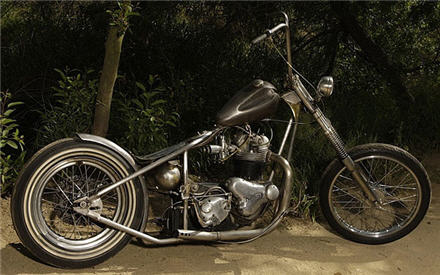 Norton is not only one of the oldest motorcycle manufacturers in the UK, it is also one of the oldest in the world.
The company was started back in 1898 and initially only made parts and fittings for vehicles on two wheels, but over time the company grew and its aspirations also grew along with it.
Over time Norton started building its own motorcycle.
By the outbreak of the Second World War Norton had become a house hold name but during the war the company reverted to building vehicles for the war effort. Post war Norton went back to what it knew best, building motorcycles.
By the 1950's Norton motorcycles were in decline because the company could not create the motorcycles with the latest frame designs and many turned their attention to other motorcycle companies.
The company was sold to a competitors at this time but retained its name.
In the early 1970's another British bike manufacturer called BSA started having financial difficulty and was bought by Norton, now named Norton-Villiers-Triumph.
Norton went through a rocky period over the 1990's as ownership of the brand changed hands many times. It wasn't until 2008 that Norton finally found itself in a new home in Leicestershire, some 40 miles down the road from its humble beginnings in Birmingham 110 years before.
While the history of Norton is quite up and down, it is still a household name in the UK and overseas markets. The reason why it is so well known is because many people love to purchase old Norton bikes to build Norton Bobbers and Norton Choppers.
The reasons why Norton is a major preference for building the classic British bobbers and choppers is because the bikes are generally cheap to buy and the parts readily available. Most motorcycle enthusiasts like to buy old beaten up Norton bikes rather than the ready built Norton bobbers and Norton choppers. This is because already built bobbers and choppers are more expensive to buy than original Norton bikes.
What is special about Norton is that Norton choppers and classic bikes carry a very interesting old English motorcycle style that cannot be found in any other motorcycles, besides those of another old English motorcycle manufacturer. This manufacturer is called BSA, which Norton owned from the 1970's.
If you are someone who loves old style British bobbers and choppers then an older bike is the perfect choice in making your Norton chopper a reality.