Regal Raptor Bobber
by Abbas Abdul Wahab
(Kuala Lumpur, Malaysia)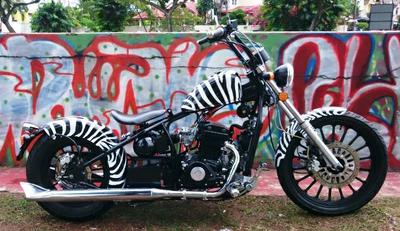 Right view Regal Raptor Bobber
Regal Raptor Bobber 350 a.k.a. MOMOS Bobber in Malaysia...


Bobbers are generally the creation from your motorcycle garage but this Bobber is one of the few manufactured. In the case of Malaysia, it is imported from China by Mofaz Motorcycles Sdn. Bhd. (MOMOS), assembled by Chear Global Sdn Bhd. at Pucak Alam, Selangor and distributed by Chear Motor Sdn. Bhd's Network whose headquarters is at Klang.
My Model is DD350E-2 and comes with fishtail exhaust pipes though I changed the stock handlebar to the higher yet more relax Regal Raptor Daytona handlebars. The DD350E-2 model comes in 2 versions: standard and more expensive SE version.
Current models sold in Malaysia use carburetors which gives it that potato-ish thumping note. The everlasting beauty of a rigid frame accentuated by fishtail exhaust pipes coupled with its peanut tank and loud pop-pop-pop exhaust note makes it irresistible old school motorbike character.
But beauty has its price and loses in comfort to soft-tails that try to emulate the hard-tail look. The only customization I had was the zebra stripe airbrush job (with a matching Bell Custom 500 helmet) and a direct power cable from the charger to the positive battery terminal together with a similar but functionally grounding cable from the frame to the negative battery terminal.
If I have spare cash, I would have the handlebar and handlebar riser chromed. I am generally satisfied with the overall Bobber package so I do not have any intention to further customize it.