Softail Dyna Glide Maintenance Video Clip: 

In this Softail Dyna Glide maintenance video you'll learn throttle cable lube and adjustment and more...
The actual DVD has superior audio and video quality, and it shows you all kinds of Harley maintenance tips and techniques to maintain your own bike and save lots of money.
Press Play in the lower left corner or the middle of the screen of this Harley Maintenance video below...
On this side of the handlebar, what I'm going to you now is lubricate our throttle and handle cable and make an adjustment to our handle cable.
So what you need to do first is remove the two bolts that hold the switch housing together and I use the T-twenty five to do that. So I just remove the top bolt and the bottom bolt and that will let us open up our switch housing just like that. 
And once this opened up you can see in the back there's our idle cable and in the front they'll be cable. That's our throttle cable...
What I'm going to do is use a little too light lubricant and spray it down the sheathing. It is slow so let it seep down and follow the cable and allow it to lube itself. 
You want to use either graphite lube or very light type of oil that won't collect dirt or dust. 
Once this is lubricated we go ahead and lock our clam shell or switch housing back together. 
When you do this I recommend depressing the brake lever; the reason behind that is that is when you squeeze these together the brake switch is right there and if it hits the brake lever and holds on to it while you tighten it, it can snap the brake switch. So push all the way down then put your bolts in.
Secondly we are going to want to adjust our cables; there's a lot of slack in there and we don't really want that. It doesn't feel very good. You want to break the lock nuts loose on your throttle and idle cable; typically it's a three-eighths lock nut but the one on this bike is a five sixteenths because it's aftermarket.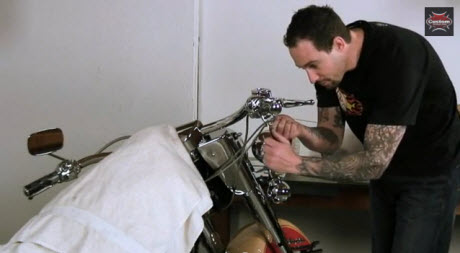 ---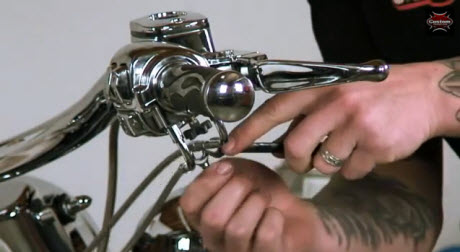 And first what I'll do is check my throttle cable and I'll do that by rolling it all the way back. When you do this you'll notice that you may not hear a clicking sound. That means we don't have full throttle. The bell crank on the carburetor is not hitting the stop all the way so it's not opening the butterfly all the way. 
So what I will do is just start pulling some of the slack out of this cable by lengthening it. And now just as I move it about two turns I can start to here just the clicking of the belt crank hitting it stop.  
So that right where we want it, just as it start to lightly hit. I'll lock the throttle cable down; and again our throttle cable is the one closest to the front wheel or the one furthest away from you while you riding. 
The one closest to us is our idle cable that makes the cable snap-back.
What we want to do is make sure that the idle cable tightens up our adjustment so we get as much free plays as we can out of there. But we also want to make sure we have snap back at all positions of the handlebar. Meaning if full left lock it snaps back freely, turn the handlebars full right lock, doesn't snap back.
So you want to do is; see I'm taking the adjustment out it'll come back, there we go full snap-back, full snap-back and full snap-back. That way if you going to turn you'll be assured that you going to get proper snap back and throttle non stick; that's where I want it, lock that down and our throttle adjustment is complete.
To get a maintenance video (DVD) for your Softail, DynaGlide, Evolution, or Fatboy model Harley-Davidson, click here.
If you want to build your own motorcycle, these bike building videos are the best and only comprehensive chopper building videos (DVD) on the market, bar none. Guaranteed.