What You Need To Know About V8 Trikes and Where To Find One!
Motorcycles come in all forms of design, build, and make. A trike, otherwise known as a 3-wheel motorcycle is a fusion of both a car and a motorcycle.
You can operate this beast of a trike in a stationary seated position similar to a car without having to balance the machine like a traditional motorcycle.
This allows drivers to have the best of both worlds as they have the comfort of a car to go with the handles of a motorcycle. Trikes can be one of the most powerful vehicles on the road as you can buy them or build them with V8 engine capacities.
For many motorists, they appreciate the trike among most motorcycles types because of its unique designs and functions.
If you are looking to own one through purchasing or designing one from scratch, there is a lot of information that you must know so that you make the right decision. Here is a guide that may help you.

Understanding The Types Of V8 Trikes!
Whether in V8 or V6 engine designs, trikes come in 2 forms: Delta and Tadpole. A Delta trike is designed in such a way that the vehicle has one front wheel and two wheels in the rear.
A tadpole, on the other hand, is the reverse of a Delta with two wheels up front and one wheel in the back. Delta trikes are safer among the 2 designs because they provide more stability and safety when braking. This is why most manufacturers design their trikes in Delta form. 

Interesting Features
Trikes come in all types of custom designs. Depending if you buy them from a manufacturer, you can choose a trike with different customizations such as engine make, body design, passenger capacity, and many more. The regular features that you can expect from a V8 trike are:
Wheels and suspension. V8 trikes carry massive engines that weigh a substantial amount together with their entire body. Usually V8 trikes weight more than a thousand pounds. For this reason, the trike normally has wheels and suspension capable of supporting its entire body. 

V8 Engine. Trikes get their power from their engine. A V8 engine is about the most powerful engine on trikes today as it is capable of driving more than 160 miles per hour on the road. As there are numerous brands of V8 engines available, you will need to do a little bit of research on which engine suits you the most. 
Custom Designed Body. Most V8 three wheelers are built with aluminum, fiberglass, steel, and all sorts of material. You can also get them in all sorts of paint design and body outfitting. This is one of the best things about V8's, the ability to custom design them. 

Should You Buy One?
The simple reason why people choose to buy or build a three wheel V8 motorcycle is because it is the most powerful motorcycle vehicle available in the market today. If you are fan of power, this is the perfect vehicle for you. One reason is because you have the loudest engines that can be heard 50 feet away. You also have the capability to drive your machine with up to 140 to 150 miles per hour depending on the engine. Other reasons to go with a V8 are:

You even have 200 to 250 horsepower at your command. This allows you to drive on city roads as well as on the highways effortlessly. V8 trikes are actually more suitable to highway driving as the engines are capable of providing rides for up to more than 100 miles long. 

Most of these bikes come with dependable suspension systems that are capable of supporting their heavy duty bodies. They also have break systems that are suitable to the amount of power that they provide. These features provide the ultimate safety when driving in the city or on highways. 
Three wheel V8 motorcycles come in all designs and customizations. You can get classic-looking trikes or futuristic looking ones depending on your type. Ultimately, V8 trikes look cool!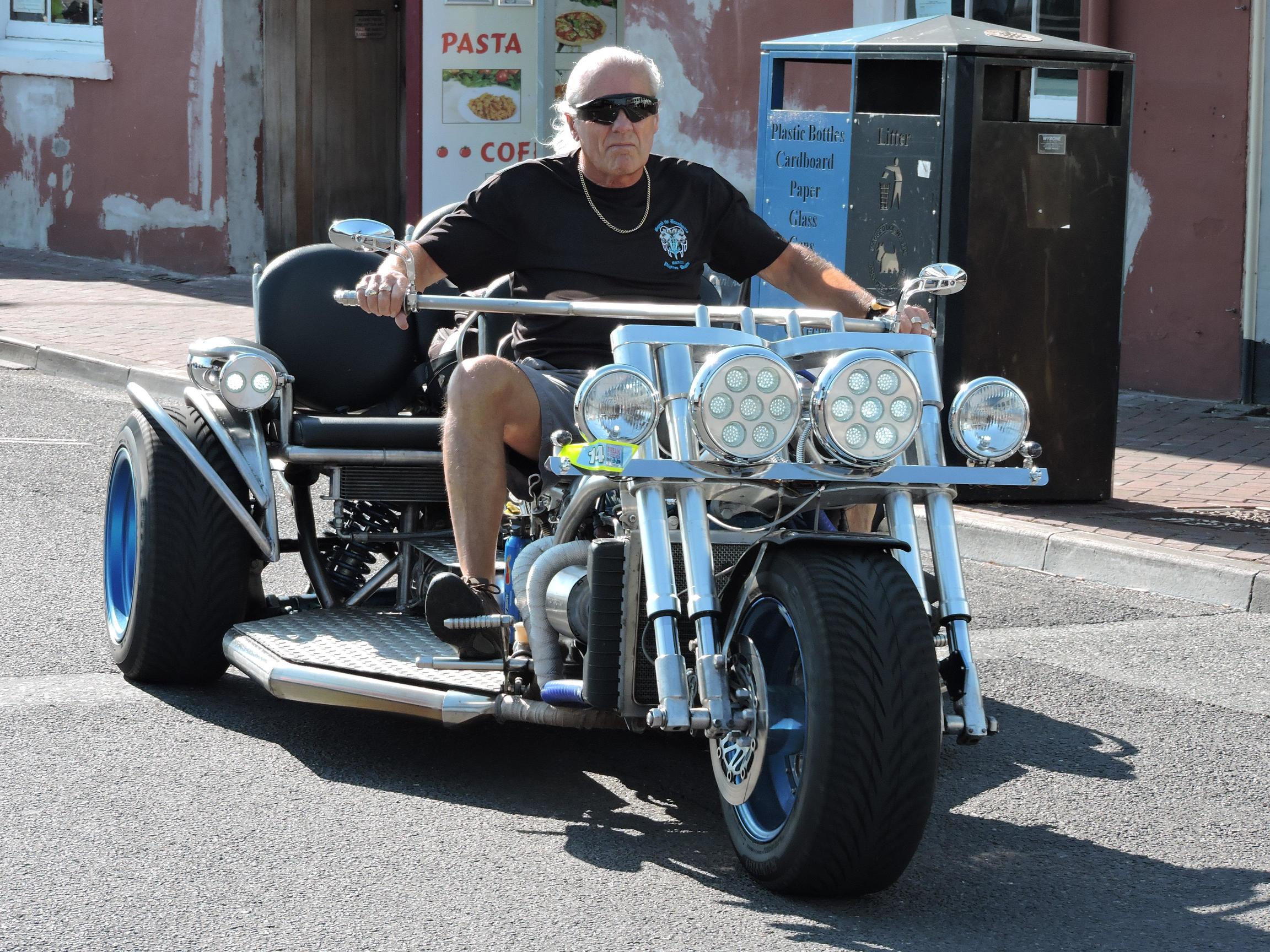 V8 Custom Trike.
Building Versus Buying!
Many people constantly wonder about whether it is better to buy a V8 trike or to build one from scratch. Buying a trike means that the vehicle has already been built. This is beneficial to those who have little to no experience with building motorcycle frames, as you do not need to worry about finding all of the raw materials required. 
You do not also have to worry about constructing the bike with a powerful V8 engine. You also need not worry about working with fiberglass, steel, aluminum, and all other materials for the body. 

Building your own Trike, on the other hand, means that you must have the experience and technical know-how. This means that you must have the experience welding metal, measuring body parts, electronics, and various other technical activities. 
You also must have the ideal workshop complete with tools and machines to be able to craft your Trike. If you have all of these at your disposal, you will be able to build your own trike. If you do not have these, you really should forget about building your own Trike and stick to buying one brand new or second hand. 
Available V8 Trike Kits!
When searching for the right trike kit for your V8, finding the right providers may not be as difficult as you think. The U.S is a fully-stocked supermarket of trike kit providers that you can find online or somewhere near your vicinity. The providers come complete with all the parts that you will need such as:

Wheels

Suspension
Seats
Seatbelts
Radiators
Ignition
Handlebars
Gas Tanks
Chrome and Paint Customization
Best of all these providers are well-experienced in building customized V8 trikes for all motorcycle lovers. Try searching online today and you will find numerous providers on your search engine. Compare rates and services properly so that you can find the provider that matches your current budget. V8 trikes are amazing to own. You'll turn heads up and down the street.