Victory Red Custom Trike
by Dave Green
(Sarnia Ont. Canada)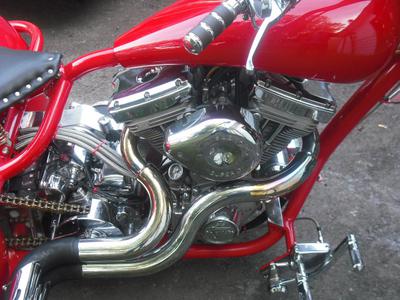 98 inch S&S 6 Speed
All hand built, excepted the frame from Beaberbuilt Gibsonberg Ohio. 98 inch S&S 6 Speed RHD, inboard brakes 310-35-18 rear wheels 80 spoke 21 billet front wheel. 14 in. rear fenders. Hand made oil tank of stainless steel and battery box.


All billet rod to mount rear fenders. duel rear chains. duel rear brake and tail lights. L E D fender signal lights and mirrors. 42 degree rake. Hand made seat with two 4 inch shocks. All wiring inside the handle bars head light and frame. Paint is Victory Red. Base clear.
Re-worked exhaust to clear the fender and frame. All stainless hard ware. I have built other choppers over the years this is the first Trike I have done. I think the best part of doing a build is the mock up and you can see and feel the look.