Bobber Frames And Where To Get Them!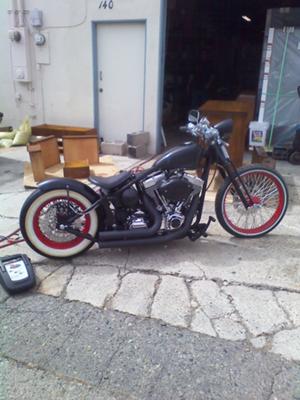 Bobber frames, or bobber motorcycles are so named because their fenders have been either removed or radically "chopped" to shorten the length of the non-essential part. Most chopper owners consider the fender to the one of the first things to go to provide the clean, streamlined look inherent to custom choppers.
Bobbers first appeared after World War II vets began bringing motorcycles home from Europe. These bikers began to strip their motorcycles down which eventually evolved into what we know as custom choppers today. The bobber look, however, has many points of the original post-World War II motorcycles carried over such as single saddles, stretched and/or raked frames, high rise handle bars and lack of embellishments other than great looking custom paint jobs.
Bobber frames are usual rigid, also known as hard tail frames. These days lots of bikers prefer softail frames because they  Traditionally, the frame rake runs anywhere from 30 degrees to as high as 40 degrees. Some bobbers have stretched down tubers, while others use strictly stock front ends.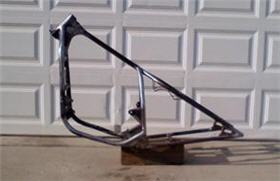 If you want to build a bobber custom motorcycle, there are two major ways to get a bobber frame. One of the most popular methods is to purchase a rolling chassis, which means the shipment includes much more than just the frame. One example is Flyrite's Bobber Model 33 degree rake, 2 inch down tube stretch model which includes the rigid frame with axle Sprinter front end with front axle but without fender tabs; bearing cups; risers and handle bars of your selection of drag bars, 12 inch ape hangers or 16 inch ape hangers; grips, 21 inch 40-spoke chrome front wheel with tire, tube, and rim strip; 16 inch 40-spoke chrome rear wheel with tire, tube, and rim strip; fender strut rear fender shipped stock so you can customize as you wish, and a Sportster style peanut gas tank. 

Basically, you simply have to add the engine, transmission, linkages, and you're ready to ride.
The second way to obtain a bobber frame is to purchase just a metal frame. With this option, it's up to you to select, purchase, and add the rest of the parts to build your customer bobber.
If you are tackling a custom build for the first time, it can be a huge advantage to purchase a rolling chassis. If, however, you have some experience in designing and building motorcycles, or have a lot of confidence that you and your friends can come up with a safe, workable design, then the bobber frame may be your choice.

Our bobber frame plans are the best on the market, and for the money. We have a rigid bobber chassis and a softail. The softail frame is very popular because we built the shocks into the frame so that it still retains a rigid look but without the grueling back pain from long rides and hitting pot holes and such. See below:
No matter which method you choose to build your custom bobber, be prepared to obtain a title for the completed motorcycle. If you choose to purchase just a frame, be sure to save EVERY receipt along the way since you will need all your documentation to obtain a builder's title for your bike. If you purchase a rolling chassis, it will likely come with a title to the frame but you will still need to show receipts for your engine and other added parts in order to obtain a safety inspection and successfully title the bobber in your name.
Related Products and Articles:
---
---