Harley Davidson History In A 3 Minute Read...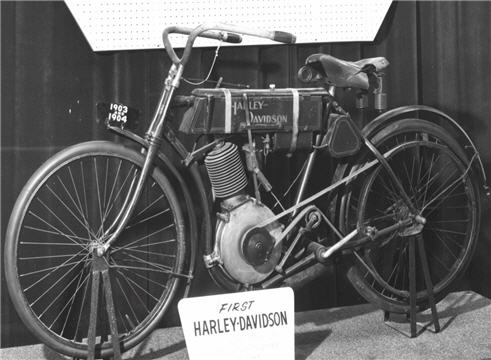 Harley Davidson history could easily fill a lengthy book. From the company's humble beginnings to the modern day, high tech operation it is today is very interesting. The Harley Davidson name is renowned worldwide and has become associated with quality and excellence.
In 1901, William S. Harley fitted a bicycle with an engine, creating what was to evolve into the Harley we know today. In 1904, the very first Harley Davidson dealership was opened in Chicago, selling the entire line of Harleys, which had grown to include three different models.
Harley Davidson History Part 2:
The V-twin engine, for which Harley Davidson is so well known, was introduced initially in 1909. The twin cylinders in a V formation quickly became the icon by which Harley Davidsons were identified. The next year, 1910, the famous logo was developed and trademarked. In 1922 the 94 cubit inch engine was introduced. By 1931, all the competition except for the Indian motorcycle had disappeared from the horizon.
In 1938 two significant events occurred for Harley Davidson. First, the initial Black Hills Rally in Sturgis, North Dakota was held. Secondly, Daytona 200s on the 3.2 mile sand race course at Daytona Beach, Florida.
Harley Davidson History Part 3:
In 1941, America entered the Second World War and manufacture of civilian Harley Davidson motorcycles was suspended in favor producing motorcycles for the military elements. By the time the war ends in 1945, nearly 90,000 motorcycles had been delivered to the military. Many of these Harleys came back to the United States and became part of the motorcycle enthusiasm rising as returning military men sought excitement and thrills.
Harley Davidson History Part 4:
History indicates that Harley was a viable, strong company. But in 1969, Harley Davidson decided to merge with American Machine and Foundry Company (AMF), the makers of bowling equipment. This led to a decline in popularity as bikers felt the motorcycles manufactured under the AMF/Harley line were not true Harley Davidson and they felt the quality was not the same as in previous year models.
During February, 1981, a group of Harley Davidson executives signed a letter of intent to purchase the company from AMF. During June of that same year, the purchase was completed and Harley Davidson regained the standing in the biker world previously enjoyed.
In 2003, Harley Davidson celebrated 100 years of excellence in motorcycle design and manufacture. Over the years, Harley Davidson history has shown that this producer of the most innovative in motorcycles has kept pace not only with the desires of bikers, but with developments in technology. This ensures the Harley Davidson name will continue to represent safety, quality, and a variety of motorcycle models designed to suit the needs of any bike enthusiast.
---