Why A Honda CB750 Chopper Is A Good Alternative Bike Project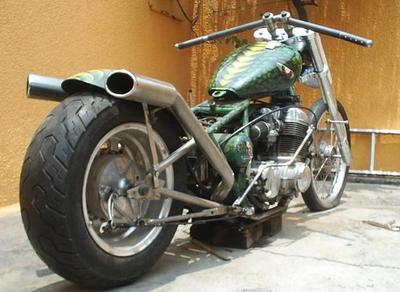 A Honda CB750 chopper is for you if you want both affordability and reliability combined into one fast package. The CB series of Honda engines has been around since the 1969 through 1978 production years. Because these quick acceleration engines provided a degree of reliability found in few other motorcycle engines, it is not a rare sight to see a CB750 engine in one of today's choppers. After all, who wants to spend wrench time instead of ride time?
First released in June 1969, the stock Honda CB750 became popular almost immediately for speed, if not for looks. Of course, back then most motorcycles didn't provide the sleek look we are familiar with today. The two-tone stock paint easily identified any of the CB series of motorcycles.
Early Honda CB750 choppers were often real "chop jobs" in that the forks were extended without frame modifications, making a really funny look chopper that left a lot to be desired. As choppers became more popular, fans of the CB750 began to realize the benefits of modifying their motorcycles further to provide a more elegant look and give the rider a better feel for the road.
In fact, this turn toward more radically modified Honda CB750 choppers led to a surge in popularity of the Amen Savior frame. Unfortunately, if you can get your hands on one of these sturdy, well-balanced frames, it will be at a swap meet. The company has long been out of production. The unique rear plunger suspension looked good but many riders found it didn't ride perfectly. The rigid Savior   frames, however, were great for the hard-tail chopper fan.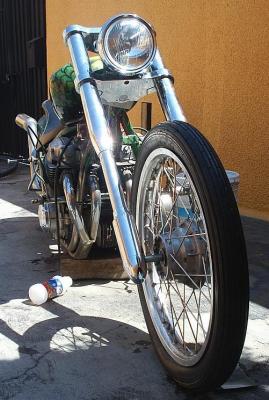 Today, of course, you can buy a new frame, controls, forks, and accessories in which to place your Honda CB750 engine and tranny. The restrictions of years past are long gone. You may still have to do some mods to get the forward controls  positioned where you desire, but there is lots of help available from those CB750 chopper builders who have succeeded at this task in years past.
Sure, you still want to carry your emergency tool kit on your honda cb750 chopper for longer hauls. But you won't use it very often in all likelihood. Once tuned perfectly and running well, these workhorse engines just seem to go and go and go -- much like the EverReady rabbit. Along with the reliability, you get the speed few American made engines offer and the looks you want based on your own design requirements.
Related Video:
iframe width="315" height="236" src="https://www.youtube.com/embed/5Z-3tit3EDQ?rel=0" frameborder="0" allowfullscreen>
---