New!

How To Build A Motorcycle Like This Show Winning Low Budget XS400 Build!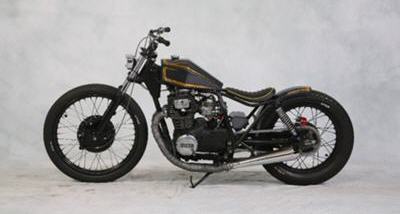 Our new mini course called How To Build A Motorcycle will provide a basic overview of what you need to do and what you need to consider as you learn to build your own motorcycle or chopper.
The motorcycle building tips, suggestions, advice and resources will satisfy beginners advanced builders. Sign up now. You can unsubscibe anytime and we do not share any information with third parties. You'll just get quality motorcycle building tips from us... 
---
How To Build A Motorcycle From The Frame To A Road Worthy Bike!
Here is a sample from the our new mini bike building course called, How To Build A Motorcycle (we shortened and edited it for simplicity on this page):
Since building a motorcycle frame requires plans in most cases and it is a little bit technical, we will start off this course assuming you have a motorcycle frame. Let's begin...
One of the very first things to consider are what kind of motorcycle forks to use. Some are gorgeous, some just do the job. The most common type of forks are:
Girders 
Springers 
Hydraulic
As you learn how to build a motorcycle you'll shop for forks. And most modern factory produced motorcycles will have these motorcycle forks. In hydraulic forks one single closed unit contains both the shock and spring. This means that you aren't able to actually see the spring.
When choosing a hydraulic shock you must ensure that you get the right kind for the type of motorcycle you are building. The forks need to be compatible in length for the overall set up of your motorbike.
Motorcycle and chopper forks come in various lengths. But how do you know which length will work on your bike? The easiest way to figure this out is to measure. Fit the rear wheel and block the bike up to the height you want (riding height). And then at this point measure the space that you motorcycle forks will be fitting into.
Side Bar: You should first have the wheels and tires you're going to use on your bike.
Here is a basic overview of what we are talking about here: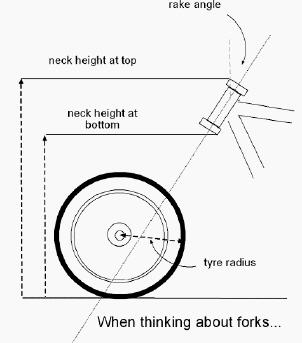 To get the rest of the details on how to build your own motorcycle get our free bike building mini course called: How To Build A Motorcycle. You will get all the lessons in your email every few days. You will learn a lot from it. And if you don't like it you can unsubscribe anytime...
---
Recommended: 
New DVD! Motorcycle Fabrication Tutorial
XS400 Picture Was Courtesy Of This Subscriber.