Making Motorcycle Gas Tanks!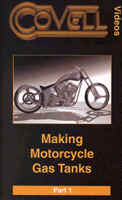 Making Motorcycle Gas Tanks: In this long-awaited video, Master Metalworker, Ron Covell, shows the 'intimate details' of making two very different gas tanks.
Highly Recommended!
The first custom gas tank that Ron shows you how to make is a flat-bottomed chopper style tank made from steel. The second is a comma-shaped tank made from aluminum. 
In this highly acclaimed DVD you will discover: clear   details and instruction on rubber mounting, demonstrations of forming with hand tools and with an English wheel, and much more!
'Making Motorcycle Gas Tanks' is an amazingly detailed and professionally produced DVD with over 2 3/4 hours of instruction! And it's not a bunch of fluff or filler. You'll get clearly shown, step-by-step instructions that you will can view anytime, 24 hours a day.
If you want to learn the art of making gorgeous custom motorcycle gas tanks and how to work with metal, this DVD deserves an important spot in your library.

Click Here For Information On All Four Of Our Most Popular DVD Titles!
---